How to set realistic fitness goals and actually achieve them
By Tracie Snowder
January 14th, 2015 @ 8:17pm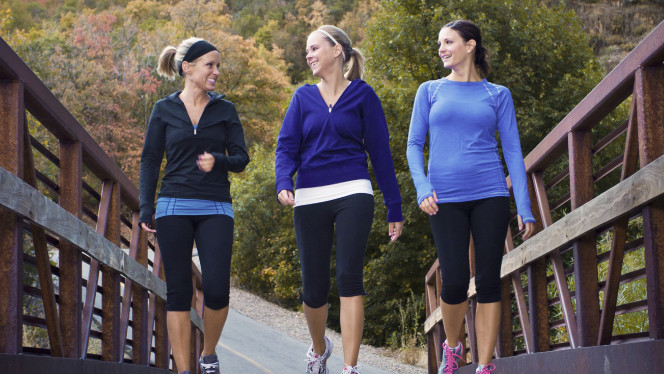 Brocreative/Shutterstock.com
SALT LAKE CITY Its two weeks into the New Year and the gyms are already emptying out.
If youve already gotten off track of your New Years resolutions to get healthy, it might be because you set your expectations too high and burned out too fast.
Lisa Boucher[1] is a certified personal trainer who works with clients in Utah County and has been working in the fitness industry for over 24 years. She says fitness trends come and go but the basics always stay the same.
Theres the need for resistance and cardio, Boucher said, in order for someone to get physically fit. She gives tips on how you can make fitness goals and actually stick with them past three weeks.
First things first: make sure youre in good health, Boucher said. Get a physical and make sure you dont have any limitations from previous injuries. Youll have to tailor your routine to any health issues you have, but you can still make it work.
You dont have to force yourself to be a slave to the treadmill, Boucher said. If you dont like running (or swimming or cycling) find something you love to do because it will keep you coming back.
Need some suggestions? Try walking, swimming, the elliptical machine, water aerobics or yoga for low-impact exercises. If youre looking for something more intense, you can try a spin class, rock climbing, tennis, a weightlifting class or hiking. If you're looking for something completely wild, you can even try indoor surfing or aerial acrobatics[2].
And if you really do want to become a runner, try a couch-to-5K program that uses a combination of walking and running to help you build up your endurance to run 30 minutes or more.
Dont force yourself to exercise in the morning if youre a night owl.
I think its really necessary to pinpoint what type of person you are and go with that, Boucher said. A lot of people think the morning is the best time to exercise and then they try it and the morning doesnt work and they give up. But it wasnt the exercise, but the time of day. Its important to exercise at time that works for you.
Listen to your body and exercise when you have the most energy. That might be right after you drop the children off at school, your lunch break or after dinner. No time is a bad time to get in your exercise.
Whats your big goal? Do you want to lose 40 pounds? Do you want to run a half-marathon? You need to figure out what your big fitness goal is and then break it down into smaller goals that you can track by the week and month, Boucher says.
Its not hard to say youll exercise for 20 minutes, three times a week, she said. These little goals are achievable and attainable. And then when you evaluate at the end of the month, you can see how youve been successful.
And once you obtain one small goal, keep it up but move on to the next one, she adds. Lose 2 pounds by cutting out sugar and junk foods for a week. Drink half the number of your body weight in ounces of water a day. Keep adding additional little goals as you go.
The other thing that it is so necessary is to schedule yourself into the day, Boucher said. A lot of people just assume its going to happen. For many people it doesnt because people feel overwhelmed with business of schedules.
Pick a time, put it in your schedule where you block out an hour to exercise and make it happen.
Enlist the help of a friend or family member, Boucher recommended.
Its always helpful to have support system, she said. A lot of times people stop working out because they feel alone in quest for fitness.
If your schedules are busy, pick two or three days out of the week where you can meet at the gym for a class or go outside for a walk. Make goals with your friend or family member, too. A workout buddy can help push you farther than youd go yourself.
It's always helpful to have support system. A lot of times people stop working out because they feel alone in quest for fitness.
Lisa Boucher
It can feel like a daunting task all by yourself, but doing it with a friend really does make it a little bit easier, Boucher said.
A study conducted with the 1979 Harvard MBA program found that only 3 percent of students had written down goals for the future, 13 percent had goals but had not written them down and 84 percent had no future goals at all, Forbes.com reported[3]. When researchers contacted the graduates 10 years later, the 3 percent who had written down their goals were earning about 10 times as much as the other members of their class. The takeaway from this? Writing down your goals can be extremely important in how successful you are in achieving them.
Boucher agrees. She said keeping a journal for food and exercise will help people figure out what works and what doesnt for them.
A journal helps you feel accountable, she said. It also encourages you to exercise and eat healthy food.
Write down your goals at the beginning of your journal so you can look at them every day. If you want to keep track with an app, make sure you write down your goals and post them where youll see them every day, like your bathroom mirror.
One more bit of advice for Utahns during the winter: Dont let the cold get you down, Boucher said. Utah is a great place to exercise outdoors during the spring, summer and fall, but when the winter inversion hits, it can be hard to want to move from your super-comfy couch during a Netflix marathon.
Options that are worth looking at are joining a gym for just the winter months, Boucher said. And there are a lot of different gym options in Utah.
Love boxing? Find a boxing gym. Crossfit is a great option for people who like to work out in groups, she said. You can also find a traditional gym just about anywhere.
Not a gym person at all? Find a DVD you like or subscribe to an online fitness streaming service where you can choose a new workout every day. You can even ask a friend to use his or her home gym.
How will you keep your New Years fitness resolutions this year? Let us know in the comments.
References
^ Lisa Boucher (www.trainwithlisa.com)
^ indoor surfing or aerial acrobatics (www.ksl.com)
^ Forbes.com reported (www.forbes.com)
Resources:
The Zone Tone Breakthrough: Unleashing The Mind Muscle Connection For Accelerated Fat Loss, Lean Muscle, and Elite Conditioning (Kindle Edition) tagged "fitness tips" 7 times
Thu, 27 Dec 2012 01:24:52 GMT The Zone Tone Breakthrough: Unleashing The Mind Muscle Connection For Accelerated Fat Loss, Lean Muscle, and Elite Conditioning (Kindle Edition)By James Villepigue Buy new: $6.99 Customer tags: health(7), exercise(7), fitness(7), fitness tips(7), get in shape(7), bodybuilding(7), athletics(7), fat loss(6), muscle gain(6), build muscle(6), sports psychology(3), mind to muscle(3) http://www.amazon.com/The-Zone-Tone-Breakthrough-Conditioning-ebook/dp/B00A6K4HFS/ref=tag_rso_rs_edpp_url?ie=UTF8&creative=381421&tag=thedays-20
Easy Fitness Tips Volume 2 (Kindle Edition) tagged "fitness tips" 5 times
Sun, 10 Jun 2012 13:56:15 GMT Easy Fitness Tips Volume 2 (Kindle Edition)By Lisa Jeffreys Buy new: $0.99 Customer Rating: Customer tags: fitness tips(5), exercise tips(4), fitness(4), exercise program(3), female fitness(3), easy recipes(3), exercise and fitness(3), fitness and diet(3), gym working out, health tips http://www.amazon.com/Easy-Fitness-Tips-Volume-2-ebook/dp/B0087QFRES/ref=tag_rso_rs_edpp_url?ie=UTF8&creative=381421&tag=thedays-20
Fitness Tips: Yoga, HIIT, Strength Training, & More Trends for 2015 …
2014 was the year that high-intensity interval training (HIIT) exercise peakedlast year it topped the American College of Sports Medicine's predictions for the top fitness trends. This year, it slides to No. 2, while bodyweight … http://www.shape.com/fitness/workouts/10-biggest-fitness-trends-2015
Time Management Tips: Workout During Lunch – Shape Magazine
Channel your time management skills, and maximize your lunch time workout routine with these helpful tips. http://www.shape.com/fitness/workouts/lunch-break-workout-time-management-tips
---
---
Setting intentions is a powerful thing. Then when you have that shiny new gym membership in hand, you feel like nothing stands between you and your goals to get in shape once and for all. Trouble is, lack of motivation, unpreparedness and busy schedules have a way of interfering with our plans. If you find […]