Mr. Miyagi, one of the greatest personal trainers of all time, once said, "No such thing as a bad student, only bad teacher. Teacher say, student do." Okay, admittedly he is a fictional character played by the late Pat Morita, but this clip from the original Karate Kid is the one of the best examples of teaching a movement-based exercise EVER.
Training hard is easy; training smart is the key to helping clients experience long-term results. Using too much weight, trying to perform a challenging exercise or working too hard without being properly conditioned could cause serious injury. Whether you're working one on one or with a group, your most important role as a health and fitness professional is to teach your clients how to exercise smarter before working harder. Here are seven strategies that can help your clients and students achieve results by promoting safety before intensity. 
1. Make the training session or small-group workout more fun and engaging by playing games.
It's no secret that those of us working as health and fitness professionals love to exercise. This isn't always the case for our clients and group participants. Turning exercise into a game can be an effective strategy for helping clients burn calories and build strength without realizing how hard they're actually working.
2. Do sets for time, not for repetitions.
Instead of counting for a specific number of repetitions, challenge participants to perform as many repetitions as possible in a certain time frame. Record the number of reps done in the first set; after an appropriate rest interval, challenge the client to do more reps during the same time in the next work interval. To be safe, start with 20 seconds and work up from there; as soon as the client loses good form, STOP THE SET.
3. Know when to stop a client from potentially getting hurt.
Challenge your clients to work hard, but STOP as soon as they demonstrate poor form. They may want to keep going, but if you allow them to continue to exercise with poor form they are greatly increasing their risk of injury. This is especially important for trainers and instructors working with groups. Sometimes the most important role we play is helping an individual participant to stay within his or her actual fitness or skill level.
4. Know when and how to REGRESS an exercise.
Often when I see trainers work
… Continue reading here.
Fitnovatives Blog — Courtesy "American Council On Exercise" (ACEfitness.org)
Video Rating: 5 / 5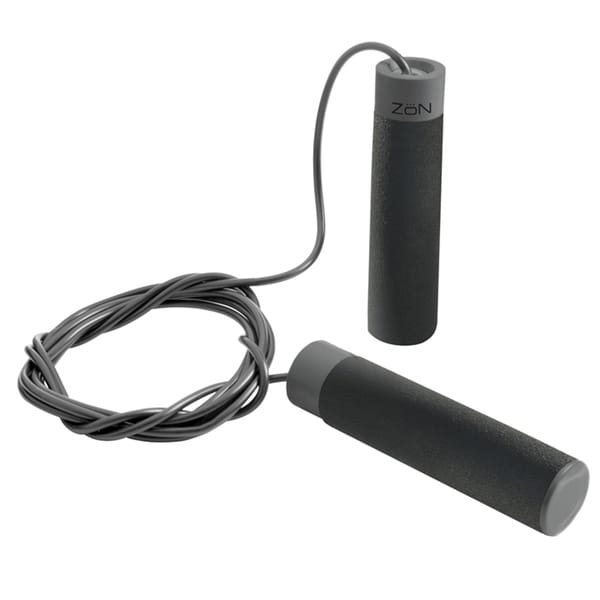 Push yourself to the limit with an exceptional exercise for building cardio and muscular endurance. The ZoN jump rope can help you develop aerobic fitness while toning your legs, arms and enhancing overall balance and coordination. Durable, solid PVC rope will withstand hour after hour of use, a lengthy 10-foot rope accommodates a variety of user heights Anti-tangle bearings in the handles for non-stop jumping 1 pound weighted handles enhance workout Brand: ZoN Model: ZNBK-JMPRPW Materials: PVC Color: Black Dimensions: 120 inches long x 1 inch wide Weight: 2 pounds
List Price:
Price: 16.99

Innovative Concepts for the Contemporary Drummer By Rick Latham Category: Percussion – Drum Set Method or Collection Format: Book & 4 CDs Instrument: Drum Set This companion book to Advanced Funk Studies offers drummers a fresh perspective on playing. Learn contemporary rudiments such as drumset interpretation, hand doubles, hi-hat foot substitutions, shuffle patterns, ghost notes, cymbal patterns, and hip-hop patterns. The four accompanying CDs offer examples of every exercise in the book. Item: 94-RLP2 UPC: 038081380995 ISBN 10: 0825825547 ISBN 13: 9780825825545
Price: $ 29.95
Sold by Cascio Interstate Music[wpramazon asin="B000VK7CEG"]
---
---
If you are searching for a proven means to attain a healthy body in a healthy mind, then this time-tested system is for you. It is intensively researched and molded into a combined system by the Indian gurus down the ages. Be it spiritual, mental or physical, this technique can be practiced by anybody at […]