Eating disorders are complex, clinically diagnosed conditions that can have serious physical and emotional complications. In the U.S. alone, there are nearly 30 million men and women affected by one of the three major disorders. As a health and fitness professional, you can play an important role in recognizing early warning signs, which may increase the likelihood of successful recovery. 
Eating disorders are a collection of serious conditions that contain both medical and psychological components. Following are brief descriptions of the three most common eating disorders:
Anorexia Nervosa
Individuals with anorexia nervosa see themselves as overweight despite their actual weight status, which is often underweight. They are typically consumed with thoughts of weight control and dieting to the point where they may weigh themselves repeatedly, eat extremely small portions of only certain foods, engage in excessive amounts of exercise, or misuse laxatives, diuretics or enemas as a means of weight control. 
Bulimia Nervosa
Those affected by bulimia nervosa go through cycles of extreme binge eating followed by behaviors designed to rid the body of food through purging, misusing laxatives/diuretics or exercising for prolonged periods of time. Unlike those diagnosed with anorexia, individuals with bulimia are typically average weight or slightly overweight. 
Binge Eating Disorder
People with binge eating disorder engage in excessive overeating, but don't attempt to rid themselves of the food (as those with bulimia nervosa do). Individuals with this disorder are often overweight and/or obese. 
Shame, guilt and a lack of control appear to reach across all three conditions and can drive behavior deeper into hiding.
Current Statistics
Research indicates that nearly 30 million individuals in the U.S. are currently diagnosed with either anorexia nervosa, bulimia nervosa or binge eating disorder (Wade, 2011). Within the general population, approximately 4 percent will suffer from anorexia at some point in their lives, and an additional 3.9 percent will be affected by bulimia. Estimates pertaining to binge-eating are even higher, with as much as 5 percent of Americans experiencing the disorder. Among athletes, eating disorder prevalence is even greater, with rates as high as 20 percent, especially within sports that emphasize size, weight and appearance (NIMH, 2014). 
As health and fitness professionals, we work with individuals on a uniquely personal level. Because physical and emotional well-being are interrelated in athletic performance, our role allows us the opportunity to recognize subtle changes in mood and behavior that impede athletic ability. 
Recognizing Potential Eating Disorders
Keep in mind that only qualified medical professionals can make an actual diagnosis of an eating disorder; however, recognizing common signs may help open channels of communication between you and your client, with the hopes of providing referral to appropriate resources if necessary. 
The National Eating Disorders Association outlines several common signs that you may notice in your interactions
… Continue reading here.
Expert Articles — Courtesy "American Council On Exercise" (ACEfitness.org)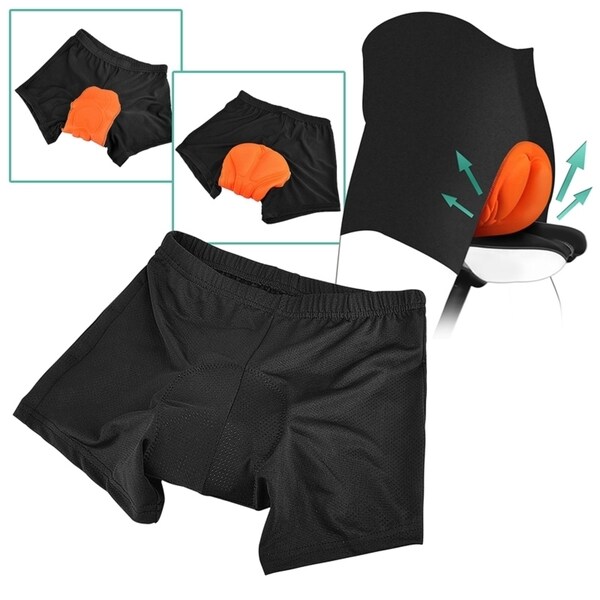 This is an INSTEN Cycling Short Pants. Your perfect cycling or sports outfit. Enjoy your ride in comfort with these orange and black Insten men's silicone gel 3D padded cycling shorts. Built from polyester and spandex with silicone padding, these shorts keep you going on those long rides where comfort plays a large role. These shorts are available in a variety of sizes to fit nearly any rider. Quantity: 1 Color: Orange/Black Size: M Waist size: 52-94 cm/20.5- 37 inches Pants length: 27 cm/ 10.6 inches Leg size: 42 cm/ 16.5Inches Size: L Waist size: 56-100 cm/22- 39.4 inches Pants length: 28 cm/ 11 inches Leg size: 44 cm/ 17.3Inches Size: XL Waist size: 60-106 cm/23.6- 41.7 inches Pants length: 29 cm/ 11.4 inches Leg size: 46 cm/ 18.1Inches Size: XXL Waist size: 64-112 cm/25.2- 44.1 inches Pants length: 30 cm/ 11.9 inches Leg size: 48 cm/ 18.9 inches Size: XXXL Waist size: 68-116 cm/26.8- 45.7 inches Pants length: 31 cm/ 12.2 inches Leg size: 50 cm/ 19.7 inches Material: Polyester/sPandex fabrics and silicone Lightweight and extremely breathable Real silicone gel pad,cool-max material and 3D design provide maximum performance and comfort All rights reserved. All trade names are registered trademarks of respective manufacturers listed. California Proposition 65 WARNING: This product may contain one or more chemicals known to the State of California to cause cancer, birth defects, and/or other reproductive harm.
List Price:
Price:

Measures of Success Baritone T.C. Book 2, part of FJH Music's Measures of Success series, features even more tips and techniques to ignite musical curiosity, to unite conceptual knowledge with performance skills, to foster understanding of the many ways that people share and interact with music, and to assess each student's continued musical growth. Comprehensive musicianship While there are differing opinions on starting systems, directors agree that the music itself is the most important component of a method. Every exercise in Measures of Success has been sequenced to promote optimal development through great musical content. Creative titles stimulate the imagination, musicianship challenges promote expressive playing, and special attention is paid to important concepts such as phrasing. In addition, students will enjoy full band arrangements and original compositions by renowned composers Brian Balmages and Robert Sheldon. Directors will quickly discover that this performance-based method also introduces students to critical listening, composing, conducting, music history, and other elements that bring about a deeper understanding ofDeborah A. Sheldon Brian Balmages Timothy Loest Robert Sheldon Percussion Written and Edited By David Collier Review – a comprehensive Recapitulation chapter that reviews material from Book 1 Sight Reading – correlated with each Opus Warm-ups – a full page of long tones and choralesfor individual, section, or full band use Improvisation – five improvisation studies with flexibleperformance options World music – representing music from 20 countriesacross the globe Composers – over 35 composers, including 14 new featured composers 12 pieces for full band • Duets, rounds, & 2 solos with piano accompaniment New cross-curricular opportunities – ties to many literary works included in school curricula
Price: $
Sold by Wal-Mart.com USA, LLC

7 x 5 Paper Greeting Card
List Price: $ 3.50
Price: $ 3.50
---
---
Even though it has not aired a new episode since May 1998 (yes, it has been that long), it seems as if there is a Seinfeld episode for almost every one of life's situations.  One of my personal favorites is the "Worlds Collide" episode, where George Costanza is trying to keep his relationship persona separate […]