Obese patients with atrial fibrillation who lost at least 10 percent of their body weight were six times more likely to achieve long-term freedom from this common heart rhythm disorder compared to those who did not lose weight, according to a study presented at the American College of Cardiology's 64th Annual Scientific Session.
The study is the first to track the long-term effects of weight loss and the degree of weight fluctuation on atrial fibrillation burden. Patients who lost more weight and maintained a more stable weight over four years showed marked reductions in atrial fibrillation burden and severity, the study's primary endpoints.
"Previous studies have shown that weight management can reduce atrial fibrillation symptoms in the short term and improve outcomes of ablation [a surgical treatment for atrial fibrillation]," said Rajeev Pathak, M.D., a cardiologist and electrophysiology fellow at the University of Adelaide, Adelaide, Australia and the study's lead author. "We sought to shed light on the long-term outcomes of sustained weight loss, the effects of the amount of weight lost and the impact of changes in weight over time."
An estimated 5.6 million U.S. adults have atrial fibrillation, which can cause episodes of weakness, shortness of breath and palpitations and increases the risk of more serious problems such as stroke. Obesity, seen in more than one-third of U.S. adults, is associated with an increased risk of atrial fibrillation.
"We found that sustained weight loss is achievable in obese patients and that it can significantly reduce the burden of atrial fibrillation," Pathak said. "Weight loss also led to favorable changes in cardiovascular risk factors such as high blood pressure, obstructive sleep apnea and diabetes, along with improvements in the structure and function of the heart."
Researchers enrolled 355 participants in a dedicated weight loss clinic and tracked their health annually for an average of four years. All participants were obese and had atrial fibrillation at the start of the study. To encourage weight loss, the clinic used a motivational, goal-directed approach that included three in-person visits per month, detailed dietary guidance, low-intensity exercise, support counseling and maintenance of a daily diet and physical activity diary.
Participants returned to the clinic annually for a health exam and atrial fibrillation monitoring. To assess the frequency, duration and severity of symptoms, patients completed questionnaires and wore a Holter monitor, a machine that tracks the heart's rhythms, for seven days. An echocardiogram, a sonogram of the heart, was also conducted to assess measures of heart health including the volume of the left atrium and the thickness of the left ventricular wall.
After an average of four years, 45 percent of patients who lost 10 percent or more of their body weight and 22 percent of patients who lost 3 to 9 percent of their weight achieved freedom from atrial fibrillation symptoms without the use of any atrial fibrillation surgery or medication. Only 13 percent of patients who lost less
… Continue reading here.
Fitness News — Sciencedaily
— Courtesy "Science News Daily" (ScienceNewsDaily.com)
[wpramazon asin="B005OSIHQM"]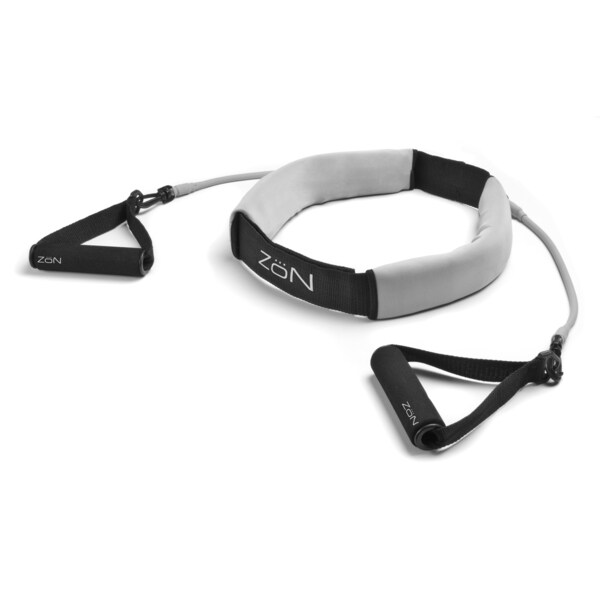 Get a powerful total body workout by walking with the uniquely designed ZoN Weighted Walking Belt with Resistance Tubes. This unique, weighted walking belt is designed to get the most out of walking for exercise routines by providing a total body workout. The added weight of the belt promotes increased calorie burn. The medium strength resistance tubes replace the need for walking with hand weights, a feature not found on other weighted belts. Walk and pump your way to improved cardiovascular health, muscle tone, and overall well-being for any fitness level. Brand: ZoN Model: ZNBK-WWLKBLT Materials: Rubber, polypropylene, foam Color: Black Dimensions: 7.5 inches long x 7.5 inches wide x 3.25 inches high Weight: 2 pounds Belt has an adjustable web strap with hook and loop tape in the front for a custom fit Maximum belt size is 46 inches Belt has 2 pound removable weighted sleeve Medium weight resistance tubes include comfortable padded handles. Resistance tubes are removable While walking or stationary, resistance tubes can be used to perform shoulder presses, shoulder raises, chest presses, tricep extensions and bicep curls as well as the normal walking arm pump motion
List Price:
Price:

Tummy-toning gel with 6 active ingredients and an ab-activating applicator To sculpt a six-pack, you need to exercise and eat healthy- but to help you in your quest for a covetable core, we developed this tummy-toning gel. Our targeted treatment contains a powerful blend of six actives to assist in toning and firming: caffeine plus amino acids, creatine, oat kernel extract, latex-rich manilkara tree extract, menthol and a special botanical extract. They re all delivered with a built-in nubbed applicator, designed to strategically massage the formula into your skin. Add fatgirlsixpack to your bod-bettering regimen to get one step closer to ab -solutely amazing results! Targeted formula for use as part of a core-sculpting regimen 2 Packed with six actives to assist in firming and toning your skin 3 Formula is released through a nubbed massaging applicator
Price: $
Sold by drugstore.com
---
---
Setting intentions is a powerful thing. Then when you have that shiny new gym membership in hand, you feel like nothing stands between you and your goals to get in shape once and for all. Trouble is, lack of motivation, unpreparedness and busy schedules have a way of interfering with our plans. If you find […]