The little voice inside your head that tells you to eat, or stop eating, isn't a little voice — it's actually a cluster of about 10,000 specialized brain cells. And now, an international team of scientists has found tiny triggers inside those cells that give rise to this "voice," and keep it speaking throughout life.
The new research, done in fish and mice, can't yet be applied to humans who eat too much or too little. But it reveals how tiny bits of DNA can have a big influence on how the body regulates appetite and weight. It's the first documentation of exactly how a brain cell gene involved in weight regulation is controlled.
In a new paper published online this week in the Proceedings of the National Academy of Sciences, and a recent paper in PLoS Genetics, the team reports their discoveries on genetic factors key to the brain cells, or neurons, called POMC cells.
Located deep inside the brain, in a structure called the hypothalamus, the cluster of POMC neurons act as a control center for feelings of fullness or hunger. They take in signals from the body, and send out chemical signals to regulate appetite and eating.
When POMC neurons are absent, or not working correctly, animals and humans grow dangerously obese. Now, the new findings show in animals that the same thing happens when certain genetic triggers inside the POMC cells aren't working.
The team, led by Malcolm Low, M.D., Ph.D. of the University of Michigan Medical School and Marcelo Rubinstein, Ph.D., of the University of Buenos Aires in Argentina, has studied the POMC system for years.
Their new findings center on the gene inside the cells that generates the appetite-regulating signals — the Pomc gene, short for proopiomelanocortin. But studying the gene itself doesn't tell the whole story of why and how POMC cells do what they do.
In the two new papers, the team reports how a protein called a transcription factor, and two small stretches of DNA called enhancers, act as triggers for the Pomc gene. All three regulate how often and when the POMC cells use the gene to create the signal molecules that then go out to the body. The transcription factor, called Islet 1, also plays a key role in helping POMC cells form correctly during the earliest stages of the brain's development, before birth.
"The POMC region is a central node of the brain's means for regulating body weight, in response to influences from the hormone leptin," says Low, a professor in the Department of Molecular and Integrative Physiology. "We're interested in understanding how the Pomc gene is regulated in these neurons, which are a very small population with a big job."
Probing gene triggers
The discovery reported in PLoS Genetics shows the impact of two
… Continue reading here.
Diet And Weight Loss News — Sciencedaily
— Courtesy "Science News Daily" (ScienceNewsDaily.com)
Limited TF Apparel ▻ http://www.furiouspete.com/ Previous Video ▻ http://bit.ly/1d9ZMiH Facebook ▻ http://www.facebook.com/Furiouspete123 Instagram ▻ http://www.instagram.com/furiouspete…
[wpramazon asin="B000GI3UEO"]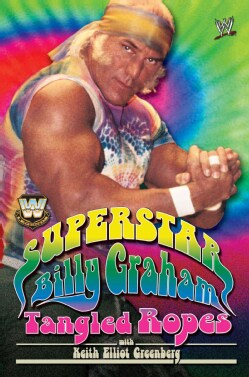 "I'm the man of the hour," Superstar Billy Graham told his audiences, "the man with the power. Too sweet to be sour!" Despite years of devastating health issues (a long history of drug abuse led to a liver transplant in 2002), the man regarded as one of the most influential professional wrestlers of the past thirty years still flaunts the same optimism that made his interviews as compelling as his matches. In Tangled Ropes, his autobiography, Graham remembers his victories — and his setbacks — on both the wrestling and the evangelism circuits in vibrant detail. At his core, Graham is still Wayne Coleman, the artistic, curious boy who escaped the wrath of his disabled father in post-war Phoenix through painting, sports, and bodybuilding. When his photo appeared in a bodybuilding magazine, the young man caught the attention of a family in Texas who began praying for his soul. Soon, Wayne found religion at a revival meeting, then mortified his parents as he left home to bend steel, rip phone books in half, and preach the Gospel on the back roads of America. Because of his natural athleticism, Wayne held a series of jobs — from bouncer to boxer, from repo man to football player. However, it was under the training of the "Mentor of Mayhem," Stu Hart, that the wrestler was revealed. Then the fading headliner Dr. Jerry Graham bleached Wayne's hair blond and transformed him into an in-ring "brother." Still reverent of men of faith, Coleman became "Billy Graham," after the preacher. Graham completed the package with his golden tan and enormous "pythons," a succession of color-coordinated outfits and jive-talking — a persona imitated by countless wrestlers, including Hulk Hogan and Jesse "The Body" Ventura. The Superstar's greatest wrestling achievement came in 1977, when he took the World Wide Wrestling Federation Championship from Bruno Sammartino. He held the prize for nearly a year — the first wrestling villain to do so. But after he lost the title to wholesome Bob Backlund, Graham fell into
List Price:
Price:
---
---
Setting intentions is a powerful thing. Then when you have that shiny new gym membership in hand, you feel like nothing stands between you and your goals to get in shape once and for all. Trouble is, lack of motivation, unpreparedness and busy schedules have a way of interfering with our plans. If you find […]