It's summer, which is the perfect time to hit the great outdoors with your clients to enjoy one of the best types of workouts! Research has shown that exercising outdoors improves mood, so why not help your clients feel better while getting stronger?
Boot camps have high success rates because they can be designed for anyone and everyone as long as you know the key components to a successful class. Here are a few things to keep in mind:
-Choose an easily accessible, safe and well-lit spot for your boot camp (it doesn't hurt to find a beautiful park!).
-Include a thorough warm-up AND cool-down that incorporates the same movements that will be used during the workout.
-Circuit stations should be timed, not counted by repetitions. This is the best way to be sure everyone can keep up.
-Aim for an appropriate amount of time at each station with ample recovery between stations.
-Rotate muscle groups.
-Design the circuit with six to 10 exercises, depending on how many clients are attending.
Encourage your clients to find an accountability buddy for sessions. This is key, not only for attending classes, but also for supporting each other during class. Boot camps are different from group fitness classes in that each trainer helps push participants to his or her personal limit and will correct form, all while creating an atmosphere in which everyone can excel. Circuit training is one of the easiest ways to keep your client's heart rate up and target multiple muscle groups at once.
This circuit is for moderate-to-advanced clients (regressions listed), but you can increase the rest periods to accommodate less-experienced participants.
Equipment needed: Resistance Bands, medicine balls, Stability Ball, BOSUs, stability straps, dumbbells, circle bands
30 seconds on, 30 seconds off
Aim for three to four sets with one minute of recovery between sets.
Here are the exercises:
1. Resistance Band Exploding Overhead Push Press
Start in an athletic stance with the knees slightly bent, core engaged and shoulders back. The resistance band should be taut in between the feet and the handles behind the arms. Explode up and slowly return to the starting position.
Regression: Use a lighter resistance or increase the tension in between feet for more slack.
Targets: deltoids, biceps, and stabilizer core muscles
2. Stability Ball Plank Hip Rotations
here.
Fitnovatives Blog — Courtesy "American Council On Exercise" (ACEfitness.org)
Hope you guys enjoyed! Pop Pilates Abs: http://www.youtube.com/watch?v=od0j4aNDGKM Pop Pilates Legs, Arms, and Abs: http://www.youtube.com/watch?v=lMnY5jAlp6…

Grreat Choice Canvas Mouse Cat Toys are perfect for critter-loving cats. They can be tossed or swatted, providing optimal entertainment! Made exclusively for PetSmart.Color: Assorted colors, please allow us to choose one for you For cats Promotes exercise Material: Polyester Fibers Advice for Use: Pet Parent supervision is advised when using this product. If product becomes damaged, discontinue use immediately. Caution: Ingestion of this product can result in serious injury.
Price: $ 0.97
Sold by PetSmart[wpramazon asin="B007LO4A1S"]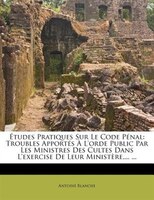 Études Pratiques Sur Le Code Pénal: Troubles Apportés À L'orde Public Par Les Ministres Des Cultes Dans L'exercise De Leur Ministère,..
List Price:
Price: 55.50
---
---
Setting intentions is a powerful thing. Then when you have that shiny new gym membership in hand, you feel like nothing stands between you and your goals to get in shape once and for all. Trouble is, lack of motivation, unpreparedness and busy schedules have a way of interfering with our plans. If you find […]