Are you eating the proper food?
What are the physical activities that you do?
How many hours of sleep do you get?
How much alcohol or cigarettes do you consume in one day?
These are the questions Health Secretary Enrique Ona asked during the launching of a nationwide healthy lifestyle movement, Pilipinas Go4Health, on Thursday which aims to control the prevalence of non-communicable diseases.
Ona said Filipinos need to be encouraged to form healthy habits as the rate of deaths due to so-called lifestyle ailments such as cardiovascular diseases, cancer, respiratory diseases, and diabetes has become alarming.
"Non-communicable diseases claim more than 36 million lives worldwide annually," he said. "At this rate, people born today may die before the age of 60."
While highly preventable, these diseases continue to rise in the Philippines due to lack of regular exercise, improper diet, and excessive drinking and smoking, according to Ona.
"Put on a thinking cap, stop and evaluate your lifestyle," he said. "We have to understand what is excessive… galaw-galaw, araw-araw."
Ona said the Department of Health is hoping that through the Pilipinas Go4Health movement, more Filipinos will be inspired and make a personal commitment to embrace better daily habits.
"Healthy lifestyle is a choice," Ona said. "If you love your family, and value your workspace and community, you must support this movement."
Tips for healthy living
To help Pinoys get started, the DOH gave the following advice:
1. Go Smoke-Free
Ten Filipinos die every hour because of illnesses related to cigarette smoking, according to Ona. He said 17.3 million Filipinos aged 15 years and older are tabacco smokers, based on data from the 2009 Global Audit Tobacco Survey.
"GATS data show that a number of smokers accessed tobacco when they were too young to make informed choices. By the time they are old enough, they may find it very hard to quit and some may already suffer its consequences," he said.
Smoking is directed linked to lung cancer, emphysema, and bronchial disorders, according to DOH.
2. Go Sustanya
Consumption of salt, sugar, fats, and high-calorie food has to be reduced to prevent hypertension and cardiovascular diseases, as well as obesity. A DOH statement on proper nutrition added that increased intake of fiber, such as fruits and whole grains, is needed to lower cholesterol and blood sugar levels.
In an interview with GMA News Online, Ona said the DOH is planning to propose a bill that would regulate food labeling.
"If you buy food ngayon, 'yung contents nasa likod, so who reads it?" he said. "If you want to give that information, ilagay natin sa harap."
3. Go Sigla
Only 7 out of 100 Filipino adults exercise at least three to four times a week, the DOH said, based on findings from the Food and Nutrition Institute (FNRI).
"The human body is designed for motion," Ona said.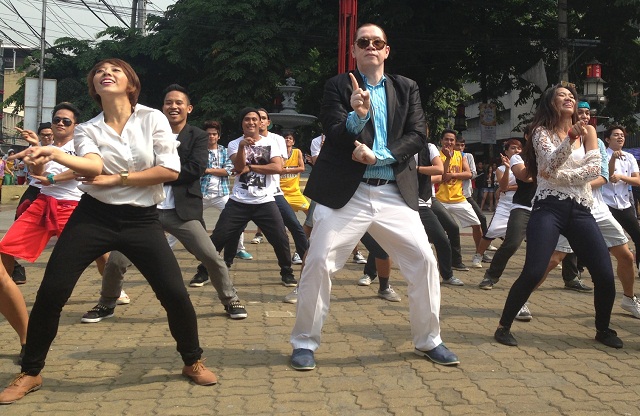 To demonstrate this, DOH Assistant Secretary Eric Tayag led a flash mob dance at the San Lorenzo Ruiz Plaza in Binondo, Manila.
4. Go Slow sa Tagay
According to DOH, the effect of alcohol varies in every person, and while it may offer health benefits to some, it may actually impose a major health risk to others.
Excessive alchohol consumption can lead to drunk-driving accidents, which is one of the reasons cited by President Benigno Aquino III when he signed into law last May a bill penalizing drivers who are under the influence of alcohol and dangerous drugs.
Republic Act (R.A.) 10586[1], signed by the president on May 27, gives law enforcement officials the authority to conduct sobriety and breath alcohol tests on drivers found to have "indications" of drunk driving, such as overspeeding, weaving, swerving and lane straddling.
Lifestyle champions
To help promote the campaign, the DOH has asked the help of some personalities and athletes to serve as "champions" for healthy lifestyles.
Among those who accepted the invitation of the DOH are Senator Pia Cayetano, beauty queen Shamcey Supsup, the San Beda Red Lions, male model Daniel Matsunaga, and Kapuso stars Louise de los Reyes and Alden Richards.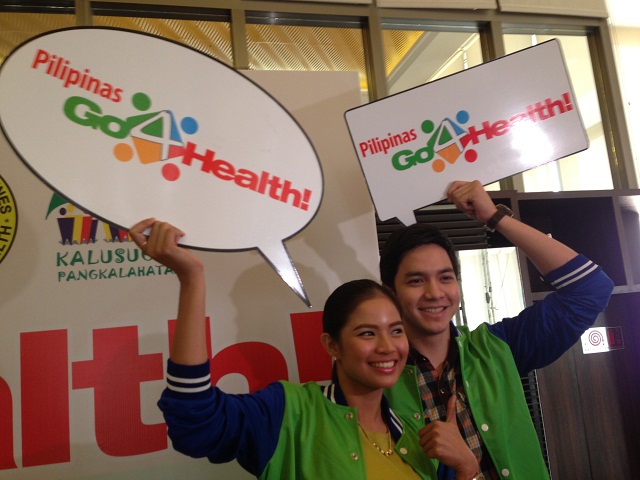 In an interview with GMA News Online, Kapuso star Alden Richards said he has always been against smoking for personal reasons.
"I'm very concerned with pneumonia because my mom passed away five years ago because of that. She's a really bad chain smoker, and sobrang laki ng grudge ko when it comes to smoking, especially sa girls," he said.
"You have to eat right, you have to quit vices smoking and drinking and exercise. Iyon lang, you can live long," he added.
Meanwhile, Kapuso star Louise de los Reyes said she would help promote the campaign for a healthier lifestyle through social media. YA, GMA News
References
^ Republic Act (R.A.) 10586 (www.gmanetwork.com)
Resources:
Be Well On Your Way: Journey to a More Authentic You (Paperback) tagged "healthy lifestyle" 88 times
Wed, 10 Nov 2010 00:25:58 GMT Be Well On Your Way: Journey to a More Authentic You (Paperback)By Maiysha T Clairborne MD Click for more info Customer Rating: Customer tags: mind body spirit(90), self-help(90), empowerment(89), personal growth(88), healthy lifestyle(88), health(88), healthy living(85), healthy life(85), personal development(81), relationships(79), self esteem(35), self-improvement(35) http://www.amazon.com/Be-Well-Your-Way-Authentic/dp/1453614095/ref=tag_rso_rs_edpp_url?ie=UTF8&creative=381421&tag=thedays-20
Life On Your Terms: 7 Steps To a More Empowered You (Paperback) tagged "healthy lifestyle" 88 times
Wed, 26 Jan 2011 03:27:19 GMT Life On Your Terms: 7 Steps To a More Empowered You (Paperback)By Maiysha T Clairborne MD Click for more info Customer Rating: Customer tags: self-help(91), empowerment(89), health(89), healthy living(88), healthy lifestyle(88), healthy life(87), personal development(86), mind body spirit(86), personal growth(84), relationships(81), self-improvement(41), self esteem(40) http://www.amazon.com/Life-On-Your-Terms-Empowered/dp/1453615040/ref=tag_rso_rs_edpp_url?ie=UTF8&creative=381421&tag=thedays-20
Healthy Lifestyle Linked to Fewer Memory Complaints – Psych Central
A nationwide poll has confirmed a link between healthy behaviors and a lower risk of mild memory complaints. But the poll, conducted by researchers from the. http://psychcentral.com/news/2013/06/02/healthy-lifestyle-linked-to-fewer-memory-complaints/55479.html
Healthy lifestyle choices mean fewer memory complaints, poll by …
Healthy lifestyle choices mean fewer memory complaints, poll by UCLA and Gallup finds / UCLA Newsroom. http://newsroom.ucla.edu/portal/ucla/healthy-lifestyle-choices-lead-246203.aspx
Tony Little Cheeks Healthy Lifestyle Sandal Fashion 2-pack – size 8
2013-06-04T20:47:10.000Z $20.00 (0 Bids)
End Date: Friday Jun-7-2013 13:47:10 PDT
Bid now | Add to watch list
Tony Little Cheeks Healthy Lifestyle Sandals
2013-05-28T20:09:57.000Z $32.95
End Date: Thursday Jun-27-2013 13:09:57 PDT
Buy It Now for only: $32.95
Buy It Now | Add to watch list
---
---
If you want to lose weight, you're not alone. More than half of Americans desire to shed pounds, according to Gallup. This goal inspires people to take action in many ways, from increasing exercise to modifying meals. One thing many people do is skip breakfast in order to lower calorie intake. While this may seem […]