Some of your clients love to run. They probably know they should do some strength training, but they think it's boring. They've convinced themselves that strength training will be tedious, so it is guaranteed to be. But it doesn't have to be.
Here's a great quote from Younger Next Year, written by Chris Crowley and Dr. Henry S. Lodge to help persuade your resistant clients: "Cardio may save your life, but resistance training makes it worth living." In other words, strength training keeps us capable. It gives us a comfort level and ability that we can't get from cardio alone.
Having trained many endurance athletes for marathons, triathlons, Ironman triathlons, and many 5k and fun-run events, I have found that strength training provides two invaluable benefits:
1. It makes endurance activities more enjoyable.
2. Experienced athletes are often able to shave significant time from their events, while simultaneously reducing the number of training miles they previously logged for other events.
Of course, those who do cardio for heart health or for general fat loss also benefit from strength training. A strong cardiovascular system doesn't mean moving your body and lifting stuff in life will be easy or smooth. For fat loss, muscle is the engine where the fuel is burned so a little muscle enhances the capacity your body to reduce stored fat.
Some of your clients might not like strength training because they think it's "boring, but more often than not it's because the way they are doing it is boring and the resistance is usually too light to get results.
When done right, strength training challenges and engages both mind and body. Life, including walking and running, is more often a single-leg activity, as we spend more time on a single leg than we do on two while doing either activity. Walking and running also involves a lot of rotation and we actually move by rotating our shoulders and hips against each other. Our legs are just the outward expression of that action. The following strength-training experience, which follows the framework of the ACE Integrated Fitness Training® (ACE IFT®) Model, can help keep your clients engaged and challenged, while also enhancing their cardio-training goals.
The Workout
1. Single-leg Squat
Sit on stability ball; you can either place the ball in a holder or use a SPRI Stedi-Ball or BOSU Ballast Ball to make sure the ball doesn't roll away. Lift one foot slightly off the floor and use the other leg to lower the hips and
… Continue reading here.
Fitnovatives Blog — Courtesy "American Council On Exercise" (ACEfitness.org)
http://www.surftrainingsuccess.com Get Your Complete Surf Training Program http://www.surfstrengthcoach.com Build endurance in the posterior shoulder complex so you can paddle as long as you…

Dietary Supplement 100% All Natural New Zealand Whey Quick Muscle Feed 3 Cellulose-Free Fiber 5 Highly Bio-Available 8 4.25g BCAAs 10 3g Glutamine 11 18g Protein Balanced Nutrition br It is common knowledge that it takes good nutrition and exercise to maintain or lose weight. Only Protein meal replacement is a unique formula that is designed to help you with a balanced nutrition. Only Protein meal replacement is a highly bio-available protein with vitamins, minerals, enzymes, and fiber, everything your body needs to maintain and build lean muscle. We have also added South African Hoodia, Carnatine, and Garcinia Cambogia, which research has shown to support metabolism of fat loss and lean muscle synthesis. Breakfast In A Scoop br Breakfast is the most important meal of the day and yet many skip it. Research shows that skipping meals causes us to gain weight. Eati
Price: $
Sold by drugstore.com


CanDo Perf-100 latex free economic bulk size roll is the best value for large clinics* The Perf-100 economic bulk size roll is the best value for large clinics and centers* The CanDo Perf 100 offers a true 100 yard roll of exercise band in a convenient dispenser box* The band is perforated every 5 feet* There are 60 5-foot exercisers in each roll* To prepare exercise band for use simply pull 5 foot length from dispenser box and separate perforation line by hand* No scissors are needed!* CanDo high quality latex free synthetic exercise band has been used for physical therapy and athletic training by clinics, fitness centers and individuals since 1987* It has become a well known staple of many physical therapy programs* The latex free formula has been specially created to mimic the stretch characteristics of latex band* CanDo exercise band is an economic solution for upper and lower body exercise* Lightweight, compact and portable* Durable* Effective when used alone, or with handles and anchors* Color-coded according to the exercise band?s resistance* CanDo is licensed to use the Thera-Band color sequence so resistance level is easily identified* Available in 8 levels of resistance for progressive exercise* Levels range in order of strength from least to greatest resistance: tan, yellow, red, green, blue, black, silver, gold* Uniform width – each band is 5″ wide* USA
List Price: $ 115.11
Price: $ 115.11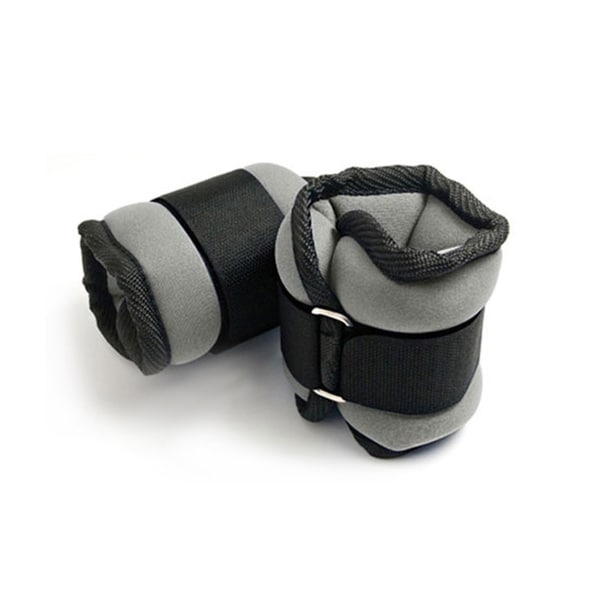 Enhance virtually any exercise routine to improve muscle tone, endurance, and balance. ZoN Ankle and wrist weights are a great addition for strengthening and muscle toning programs. ZoN Ankle and Wrist weights work not only your upper and lower arms, but your shoulders, chest and back as well. Used as ankle weights, they help develop hip and leg muscles. On ankles or wrists, they provide an easy and time-saving way to boost the benefits of an aerobic workout. Soft, comfortable material, adjustable closure for a custom fit Suitable for aerobic activities, walking and pilates as well as standing, seated and floor exercises Ankleand wrist weights are sold as a pair Brand: ZoN Model: ZNBK-AKWR2.5 Materials: Nylon Color: Black Dimensions: 7.25 inches long x 5.05 inches wide x 3.05 inches high Weight: 7.5 pounds
List Price: 33.03
Price:
---
---
Several food and nutrition trends were in the spotlight this year, including the continued rise of plant-based diets, non-dairy ice creams and superfoods that are blasts from the past — legumes, apples and cabbage. It can be easy to experience nutrition whiplash in the New Year, but don't be a victim. Get a jump-start on […]