Could our reaction to an image of an overweight or obese person affect how we perceive odor? A trio of researchers, including two from UCLA, says yes.
The researchers discovered that visual cues associated with overweight or obese people can influence one's sense of smell, and that the perceiver's body mass index matters, too. Participants with higher BMI tended to be more critical of heavier people, with higher-BMI participants giving scents a lower rating when scent samples were matched with an obese or overweight individual.
The findings, published online in the International Journal of Obesity and scheduled to be presented today at the annual conference of the American Psychosomatic Society, suggest that the extent of negative bias toward overweight and obese people may be greater than previously believed.
"You wouldn't think that not liking someone's weight could then be seen in a totally different sensory modality, which makes us think, 'How else is weight stigma affecting our lives that we don't even know about?'" said A. Janet Tomiyama, a UCLA assistant professor of psychology. Tomiyama conducted the research with Angela Incollingo Rodriguez, a UCLA doctoral student in psychology, and Andrew Ward, a professor of psychology at Swarthmore College.
"This is the first step in proving that the consequences of weight stigma could be very widespread in ways that we don't even know," Tomiyama said.
Incollingo Rodriguez, the report's lead author, said while some people are overtly biased, others are more subtle about it and may not even be aware that they harbor negative feelings toward heavy people.
"There are no checks and balances on weight stigma in the way you would see with racism, sexism or homophobia," Tomiyama said.
In two related studies, the researchers showed subjects one of two sets of images. Both sets contained photographs of different people — half who were visibly overweight or obese, and half who were normal weight or thin — along with a series of "distractor" objects.
With each image they viewed, participants were asked to smell a container of lotion tinted with a different food coloring. Although all of the "scent samples" were actually fragrance free, the researchers wanted to test whether participants would perceive them to have different smells — and whether their reactions could be associated with the images they were viewing at the same time.
As each image appeared, the experimenter placed the scent sample under the participant's nose. Participants were instructed to rate each scent of 1 to 11. The more positive the rating, the more positive the reported smell.
The researchers found that when overweight or obese people were on the screen, participants gave worse ratings to the scent samples. Images of average-sized or thin people tended to trigger higher ratings.
The correlation between visual stimuli and sense of smell is well-established: Previous research has connected the perception
… Continue reading here.
Diet And Weight Loss News — Sciencedaily
— Courtesy "Science News Daily" (ScienceNewsDaily.com)
The world's first round base shaker bottle – ShakeSphere & ShakeSphere PRO Get 10% off use CODE – MINDPUMP10% https://www.kickstarter.com/projects/1503544150/shakesphere-pro BEAST …
Video Rating: 4 / 5
[wpramazon asin="B00MFVTH7O"]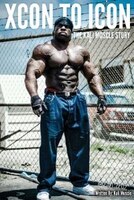 When you look at me what do you see? Do you see a man with a
successful rising career, someone with a body of art, a man with
a beautiful wife? Well it hasn''t always been like that for me. Born
into the deep streets of East Oakland, I had to learn how to survive. I
was the second born to a single mother on welfare trying to maintain
two young men on her own.
Reading this you will see my story, feel my pain and understand my
journey of losing my brother and uncle. You will hear about my journey
through bodybuilding, see my rise and fall of a promising football career,
and walk along with me while I do prison time, drug deals, pimping,
stripping, and gang affiliation. You will see my transition to Godly
principles, meet my soul mate and experience my new success.
You think you know me, well come along with me on this roller
coaster ride and see if you can relate to my struggles of learning what true
love is really about, something I didn''t know anything about until God
put my wife in my life. I never knew what love was growing up.
I can say now that I have found my place in life and I am where I
need to be and fulfilling my dreams.
Step into my world!
List Price:
Price:
---
---
Achieving bodybuilding gains. Last week I spoke with a client of mine who had been busy working during the holidays, {because it is the peak season for your business} and had not been able to work as much as wanted in the gym and also has not been able to get in all the meals […]