Using a medicine ball is a great way to add load to your traditional strength-training routine, in a non-traditional way. With medicine balls, you can add power, strength and variety to your general fitness plan.
First, it's important to understand the difference between the types of medicine balls available. Traditional medicine balls (MB) are generally soft, covered in leather or vinyl, and do not bounce upon impact. Other medicine balls, which we'll refer to as slam balls (SB), are generally harder on the outside and bounce with impact like a basketball, depending on how heavy they are.
Here are eight new ways to use medicine balls that will build strength, increase power and keep you from getting bored with your workouts.
1. Rotational Slam (SB)
Beginning in a squat position, hold the ball at your chest, stand up and move into full extension with your ankles, knees, hips and arms. Rotate through the trunk and use your whole body to slam the ball down to the floor on the outside of one foot. Catch the ball when it bounces up, rotate and slam to the opposite side. Be sure to reach full extension with the ball overhead in between each slam.
2. Squat to Press Throw (MB)
Begin in a squat position with the ball at your chest. Stand up quickly, pressing the ball up and overhead. Throw it upward and slightly out away from the body. Let the ball land in front of you, step forward in a wide squat and bring the ball to the chest; repeat.
3. Lateral Wall Ball (SB)
Begin standing in a squat position, perpendicular to a concrete wall about 2 to 3 feet away. Hold the ball at your outside hip and stand up; rotate and pivot on the outside foot. Using the power from the glutes, throw the ball at the wall at hip height and quickly catch and return to the starting squat position.
4. Reverse Slams (MB)
Begin in a wide squat with the ball between the legs. Extend the body upward, moving the arms overhead. Forcefully throw the ball behind you. Step back over the ball and repeat.
5. Forward underhand toss (SB)
Begin facing
… Continue reading here.
Fitnovatives Blog — Courtesy "American Council On Exercise" (ACEfitness.org)
This is video one of two videos. This takes you through two facial exercises. These exercises are to help you on your path to youthful skin without any harsh…
Video Rating: 4 / 5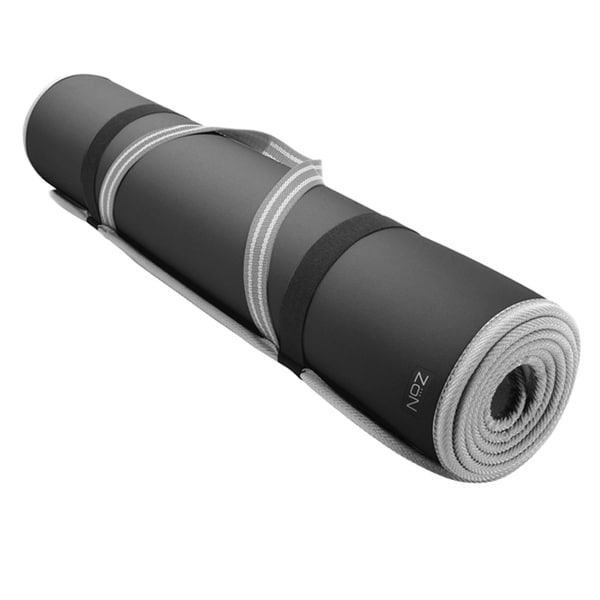 Designed to provide a more comfortable workout, the ZoN Exercise Mat provides the extra cushioning your back and feet need during exercise. Made with a durable foam, this mat provides an enjoyable foundation for Pilates routines, stretching and floor exercises. Ideal for floor exercise, Pilates routines, stretching exercises and abdominal workout Extra-thick cushioning inside, textured non-slip surface outside Attached handle straps for hands-free carrying Brand: ZoN Model: ZNBK-XMT Materials: Foam Color: Black Dimensions: 24 inches long x 70 inches wide Weight: 1 pound
List Price:
Price: 28.99

Newly introduced! Delfin Spa s Bio-Ceramic lined Belly Bands. Advanced technology to help both post pregnant moms and those looking to improve overall appearance. These bands contain many great features including: a comfortable inner lining; outer pocket for Ipod phone keys, and best of all embedded bio-ceramic material. The Bio Ceramic material in Delfin Spa s belly bands reflects your body s FAR infrared rays, which is the form your body heat takes. Increased heat combined with compression stimulates molecular activity, enhances the effectiveness of exercise, increases blood flow, and accelerates metabolism to burn more calories and help whip your belly back into shape. Delfin s Tummy Band improves the effectiveness of anti-stretch cream by assisting its penetration deep into skin layers. Possibly the best news is our bands are COMPLETELY ADJUSTABLE. The entire outer side is lined wi
Price: $ 34.99
Sold by drugstore.com


The Exercise Sandbag by Ultimate Body Press is a fat-burning, strength-building powerhouse. Whether your fitness goals include building muscle, losing weight, or improving your speed and agility, the Sandbag from Ultimate Body Press will help you reach them faster. The Large Sandbag holds between 30 – 85 lbs and is suitable for intermediate to advance strength building exercises or advance power drills. The Exercise Sandbag has a heavy-duty, multi-handle outer shell and four filler bags, two small and two large. This means you can fine tune the weight of the sandbag so that it is just right for you. Each filler bag also has a double velcro closure to ensure the sand stays in the bag. Working out with a sandbag is incredibly effective because the shifting nature on the sand inside the bag recruits more muscles while you exercise. The Exercise Sandbag from Ultimate Body Press allows you to build functional strength that you can use every day.
List Price: $ 59.95
Price: $ 59.95
---
---
If you are searching for a proven means to attain a healthy body in a healthy mind, then this time-tested system is for you. It is intensively researched and molded into a combined system by the Indian gurus down the ages. Be it spiritual, mental or physical, this technique can be practiced by anybody at […]