"Sitting will kill you"—this is a CNN headline that caught my eye a few days ago. In fact, many recent research studies have revealed that being sedentary and sitting too much will shorten one's lifespan, diminish quality of life and contribute to the development of chronic diseases. 
How is it possible that, with the knowledge and technology available today, we have managed to adapt such sedentary, self-destructive behaviors? Slowly, but surely, we have arrived at a daily routine that involves hardly ANY physical activity, intentional or non-intentional. We are now reaping the consequences of not moving our bodies. This should give us a clue, namely, that our bodies were made to MOVE—not to be sedentary. 
The human body is an amazing and fascinating organism, which works BEST when it's active. It is vital that health and fitness professionals fully comprehend this significance to be able to communicate its importance to clients. Understanding the value of one's own human parts and mechanisms will contribute to a greater appreciation of one's entire system, hopefully creating a desire to take care of it more intentionally.
Here are some amazing facts about the human body:
There are an estimated 37.2 trillion cells in the body (at maturity)

On average, adult bodies contain 5.5 liters of blood and about 10 liters of interstitial fluid

Adults are made up of approximately 7 octillion atoms

The human heart beats around 100,000 times per day

The human lungs have a surface of around 70 square meters

On average, adults blink 10 times per minute

It takes the human body about 12 hours to digest food 
I often ask my clients and students, "Don't you wish you had a zipper going down the front of your body, so you could open it and see what's going on at all times?" The answers vary, but if you imagined the same thing and "unzipped" yourself, you would find out one key thing about your body: It is ALWAYS in motion! There is constant movement within our bodies. 
Benefits of Physical Activity 
Examining the immediate and long-term benefits of physical activity provides clear evidence that the human body is made to move. Examples of powerful benefits of movement include: 
Lower blood pressure

Better regulation of blood sugar

Lower resting heart rate

Better control of body fat

Improved immune function

Increased muscular strength and endurance

Improved cardiorespiratory functioning

Increased flexibility

Better join health

Improved mental functioning

Higher quality of sleep 
… Continue reading here.
Fitnovatives Blog — Courtesy "American Council On Exercise" (ACEfitness.org)
In Sept 2014, US Army Soldiers from 1st Stryker Brigade Combat Team, 25th Infantry Division and the Indian Army participated in this U.S. Army Pacific-sponso…
Video Rating: 4 / 5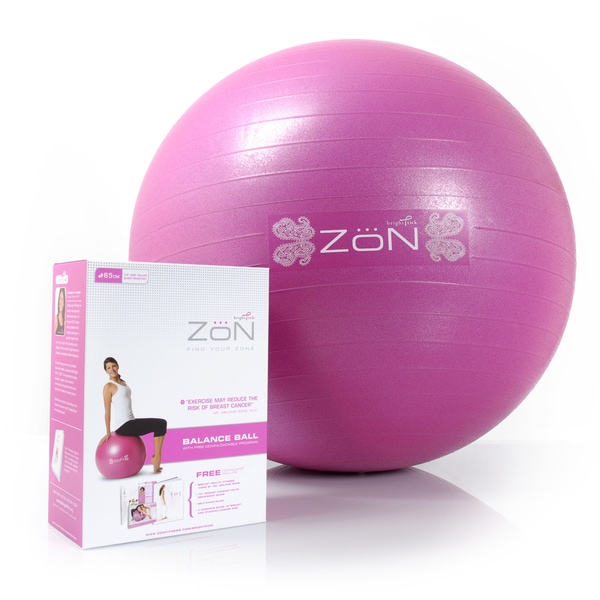 Use the Zon Bright Pink Balance Ball to add variety to daily workouts while toning and strengthening core muscles. When training on a round surface, you not only train the primary muscle groups, but also the smaller stabilizing muscles as well. Anti-burst, non-slip material lets you concentrate on your workout The exercise ball should be large enough so that when you sit on it, your knees bend at a 90-degree angle ZoN Bright Pink products include free downloadable content including the breast health fitness video, 101 breast cancer facts, self-exam guide, and 'The Little Bright Book' by Bright Pink Includes: One (1) inflatable fitness ball and a hand pump for fast, easy inflation Brand: ZoN Model: ZP/BALL Materials: Vinyl Color: Pink Size options: 65 cm or 55 cm Weight: 1 pound
List Price:
Price: 23.99

Natural remedy to relieve symptoms of severe discomfort from normal exercise, and to provide support for other joint/disc problems.
Price: $ 33.49
Sold by


Put your tot in the Jump & Go Baby Exerciser – Pink Racer by Evenflo and help him get the healthy exercise he needs! This doorway jumper fits babies up to 24 pounds and has plenty of innovative features to keep baby happy. A wide play tray doubles as a protective bumper and support system, and an interactive learning pod with fun lights and sounds is sure to bring lots of smiles. Adjustable straps allow you to easily accommodate your child's changing height and weight.
List Price: $ 129.99
Price: $ 109.99
---
---
If you are searching for a proven means to attain a healthy body in a healthy mind, then this time-tested system is for you. It is intensively researched and molded into a combined system by the Indian gurus down the ages. Be it spiritual, mental or physical, this technique can be practiced by anybody at […]