Chances are that if you made a New Year's resolution, you've already failed. Only about 8 percent of Americans achieve their goal, according to research from the Journal of Clinical Psychology. But there is still hope — a few simple steps can get you through the year, says a Kansas State University kinesiologist.
One of the most popular resolutions is to lose weight, but it's one of the hardest to commit to long term.
"If you start with lofty goals, it's easy to become discouraged if you don't meet those goals right away," said Emily Mailey, assistant professor of kinesiology in the College of Human Ecology. "Start by trying to do something once or twice a week for short durations of about 10 to 15 minutes. Then you can build up from there. This way you can set yourself up to be successful."
One of the best determinants of achieving your goal is your motivation, Mailey says. Often a goal is set of losing weight because a doctor advises it or to look better in a swimsuit, but if a person really wants to succeed, it's important to have internal motivation.
"Think about your reasons for setting your goal," Mailey said. "Internal motivators, such as wanting to feel better or have more energy, are the ones that are more sustainable because they align with more people's personal goals and values and don't make working out feel like a chore. If you are motivated by these internal motivators, then you can focus on these immediate positive benefits of exercise, rather than the long-term goal of losing weight."
And look at exercise as a benefit, rather than a burden. Mailey says both moms and dads report feeling guilty about exercising and taking time away from their families, but parents should view exercise as an investment in their family. Parents also can get creative with their workout routines.
"When we hear the word exercise, we immediately have this image of sweating on the treadmill at the gym, but for a lot of people that might not be all that enjoyable," Mailey said. "It also might not be feasible because of the cost or time commitment. I encourage people to expand their definition of what counts as exercise and explore other activities. For example, if a parent is taking their child to soccer practice, they can walk laps around the field during the practice to get some exercise."
The national recommendation for physical activity for adults is to accumulate 150 minutes per week of moderate intensity workout. That breaks down to about 30 minutes of brisk walking five days a week.
… Continue reading here.
Diet And Weight Loss News — Sciencedaily
— Courtesy "Science News Daily" (ScienceNewsDaily.com)
Vlog Channel➜ https://www.youtube.com/thelaurafiles ♥ Twitter➜ https://twitter.com/tfashionfiles ♥ Instagram➜ http://instagram.com/laurareidd ♥ Facebook➜ h…
[wpramazon asin="B004D9P1A8″]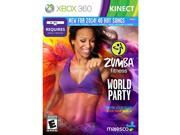 Zumba Fitness: World Party for Xbox 360
List Price:
Price: 1840.93

New members only. – 1st visit by appointment only for orientation & please bring coupon with you. – You may purchase multiple coupons as gifts for family & friends. – Expiration for coupon is 6 months from date of purchase. – You will be notified within 24-48 hours when your coupon will be ready for printing.
Price: $ 199.00
Sold by


Get Your FITS…and brave the cold! FITS Expedition offers mid calf height perfect for taller hiking boots. Heavyweight for warmth and protection. Reinforced exterior for extra durability. Our toughest sock made, yet breathable to keep you dry. Extra reinforcement in the heel and toe. Heavy cushioned with non binding leg construction. Comfort toe seam. Stay-up comfort top. Engineered with Full Contact FIT giving you the perfect fit in all dynamic situations.FITS Full Contact FitFITS are engineered to work with any shoes, perfectly molding to the shape of your foot and leg. It's called the FITS Full Contact Fit. FITS uses a super-fine Merino Wool, specialized knitting, and devotion to making the highest quality product. Full Contact Cuff: FITS are designed to follow the contours of your foot, form-fitting comfortably next to your skin without falling down your calf or bunching up around your arch. Dynamic Toe Cup: Conforms to the natural shape of the toes for a perfect fit, eliminating extra bulk. Heel Lock: The Deep Heel Pocket with reinforced heel utilizes a patented Y-shaped stitch that secures your heel in place, preventing the sock from sliding, thus eliminating hot spots and blisters.FITS = True AmericanaKnitting socks in Niota, TN since 1902, Crescent Sock Co. endured the ups and downs that shaped the character of America's people and her textiles industry. The family-owned company remains committed to its vision, its people, and to keeping jobs in the Tennessee Valley. Their socks are constructed from two-ply, compact-spun, ultra-fine Merino Wool, providing the ultimate blend of softness and durability.
List Price: $ 18.95
Price: $ 18.95
---
---
As a certified personal trainer and editor of a popular fitness site, FitnessGear101.com, I've heard every excuse in the book when it comes to why people don't exercise. However, the one that takes the, pardon-my-pun, "fitness cake" is lack of time.