A new animal study published in the Journal of Alzheimer's Disease indicates that a diet including walnuts may have a beneficial effect in reducing the risk, delaying the onset, slowing the progression of, or preventing Alzheimer's disease.
Research led by Abha Chauhan, PhD, head of the Developmental Neuroscience Laboratory at the New York State Institute for Basic Research in Developmental Disabilities (IBR), found significant improvement in learning skills, memory, reducing anxiety, and motor development in mice fed a walnut-enriched diet.
The researchers suggest that the high antioxidant content of walnuts (3.7 mmol/ounce) may have been a contributing factor in protecting the mouse brain from the degeneration typically seen in Alzheimer's disease. Oxidative stress and inflammation are prominent features in this disease, which affects more than five million Americans.
"These findings are very promising and help lay the groundwork for future human studies on walnuts and Alzheimer's disease — a disease for which there is no known cure," said lead researcher Dr. Abha Chauhan, PhD. "Our study adds to the growing body of research that demonstrates the protective effects of walnuts on cognitive functioning."
The research group examined the effects of dietary supplementation on mice with 6 percent or 9 percent walnuts, which are equivalent to 1 ounce and 1.5 ounces per day, respectively, of walnuts in humans. This research stemmed from a previous cell culture study led by Dr. Chauhan that highlighted the protective effects of walnut extract against the oxidative damage caused by amyloid beta protein. This protein is the major component of amyloid plaques that form in the brains of those with Alzheimer's disease.
Someone in the United States develops Alzheimer's disease every 67 seconds, and the number of Americans with Alzheimer's disease and other dementias are expected to rapidly escalate in coming years as the baby boom generation ages. By 2050, the number of people age 65 and older with Alzheimer's disease may nearly triple, from five million to as many as 16 million, emphasizing the importance of determining ways to prevent, slow or stop the disease. Estimated total payments in 2014 for all individuals with Alzheimer's disease and other dementias are $ 214 billion.
Walnuts have other nutritional benefits as they contain numerous vitamins and minerals and are the only nut that contains a significant source of alpha-linolenic acid (ALA) (2.5 grams per ounce), an omega-3 fatty acid with heart and brain-health benefits. The researchers also suggest that ALA may have played a role in improving the behavioral symptoms seen in the study.
Story Source:
The above story is based on materials provided by IOS Press BV. Note: Materials may be edited for content and length.
Original story here.
Diet And Weight Loss News — Sciencedaily
— Courtesy "Science News Daily" (ScienceNewsDaily.com)
Calorie burn & printable routine @ http://bit.ly/NIVzVc Lose 16-24 lbs in 8 weeks with our 8 Week Fat Loss Programs – find out how @ http://bit.ly/13EdZgX Fi…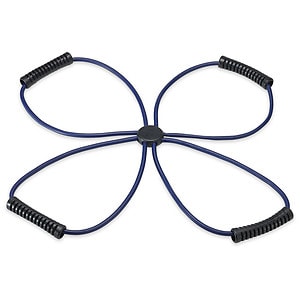 Live Fit. Live Happy. Lengthen Slenderize Your Body The New Look of Pilates in Less Time Burn Fat Stretching, Toning Sculpting 2 Engages Body with 4-Loop Design 3 Targets Upper Body, Lower Body Abs Featuring Mari Winsor of Winsor Pilates Burn fat while you stretch, tone and sculpt with this innovative new tool and workout. The CorePlus Reformer engages the entire body with its 4-loop design. Multiple grips offer a more dynamic, dual resistance workout that mimics the functions of a reformer machine. The 45-minute program by Mari Winsor, creator of the highly effective Winsor Pilates method, targets upper body, lower body and abs. Broken into three short segments, you can customize your workout to meet your needs and find a routine to fit your schedule. Benefits: br New and innovative Pilates tool builds core strength, increases flexibility and whole body awareness. G
Price: $ 29.98
Sold by drugstore.com


Syntrel(TM) Extreme Moisture Transport Technology Silky Hand Feel Covered Stitched Seams Weight : 4.2 oz Fabric : 100% Microfiber Polyester Size XS Color White
List Price: $ 16.00
Price: $ 12.00
[wpramazon asin="B00EDTJW3U"]
---
---
Does your child get enough exercise? You can get your children more active with these 5 fun parenting tips.