Restricting calories may improve obstructive sleep apnea and reduce high blood pressure in obese adults, according to a study presented at the American Heart Association's High Blood Pressure Research Scientific Sessions 2014.
People with sleep apnea may experience pauses in breathing five to 30 times per hour or more while sleeping. It prevents restful sleep and is associated with high blood pressure, arrhythmia (abnormal heart rhythm), stroke and heart failure.
In a 16-week ramdomized clinical trial, researchers analyzed 21 obese people 20-55 years old with a history of sleep apnea. Researchers instructed one group to reduce their calorie intake by 800 calories per day, while another group continued their current diet. Researchers found those in the calorie-restricted group had fewer pauses in breathing during sleep, lower blood pressure, higher levels of oxygen in their blood and a greater reduction in body weight. .
"This study suggests that in obese patients with obstructive sleep apnea, moderate energy restriction can reduce not only body fat but also the severity of obstructive sleep apnea," said Marcia R. Klein, M.D., Ph.D., co-author of the study and adjunct professor in the Department of Applied Nutrition at Rio de Janero State University in Brazil. "So moderate energy restriction in these patients has the potential to reduce cardiovascular risk.
"Losing weight was most likely the key to all the benefits observed in the calorie-restricted group. A greater reduction in systolic blood pressure can be explained, at least partially, by the reduction in body weight that was associated with reduction in obstructive sleep apnea severity and sympathetic nervous system activity." Systolic blood pressure is the top number in a blood pressure reading, which measures the force of the blood in the arteries when the heart is contracted.
Original story here.
Fitness News — Sciencedaily
— Courtesy "Science News Daily" (ScienceNewsDaily.com)

The All Living Things Flying Saucer Wheel has landed in your home to provide exercise and entertainment to your gerbils, hamsters, rats or hedgehogs. The solid surface is safe for their tiny toes and slim tails allowing them to run amuck! The virtually silent operation keeps them healthy, happy and entertained. Only at PetSmart. Features: Virtually silent Includes: 1 – Flying Saucer Wheel Intended For: Gerbils, dwarf hamsters, rats and hedgehogs Activity: Exercise and entertainment Pet Size: Small Color: Assorted colors; please allow us to choose one for you. Material: Plastic Dimensions: 7.25in (18.4 cm) dia Caution: Intended for small pets only. This is not a toy. Contains small parts. Keep out of reach of children. Always select the appropriate size and type of item for your specific pet. Be sure to observe your pet's behavior with a new item. Remove and replace the item if it becomes damaged.
Price: $ 6.99
Sold by PetSmart[wpramazon asin="B000FH2W4A"]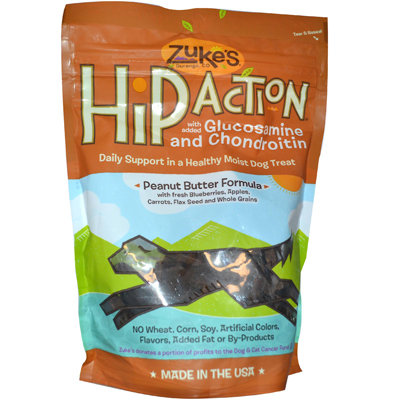 Hip Action is formulated to help treat and prevent the common symptoms associated with canine hip and joint problems such as dysplasia arthritis and stiffness. Our unique formula combines a variety of natural nutrients to keep dogs active mobile and pain free. In normal joints the tips of the bones are soft and spongy and are floating in a gel-like fluid which acts as a cushion keeping bone from touching bone. As dogs age or if they exercise a lot that cushion gets thinner and thinner. When the bones get close enough or touch the result is pain and discomfort which results in loss of mobility and stiffness. Thats where Glucosamine HCl and Chondroitin come into play. These nutrients help condition and rebuild worn aching joints. Dogs dont like pills and powders. The conditioning nutrients in Hip Action are mixed into a tasty all-natural treat. Every treat contains 300 mg of Glucosamine and 50 mg of Chondroitin essential co-factors to maximize absorption plus fresh blueberries apples carrots and ground flax seed. Zukes Hip Action can also be fed to younger dogs to help prevent hip problems before they start. Feed Hip Action and Fuel the Love.


Attributes: Wheat free.

Size: 1 lb pouch.

Ingredients: Peanut Butter Ground Rice Ground Oats Malted Barley Maple Syrup Gelatin Vegetable Glycerin Glucosamine Hydrochloride Fresh Apples Fresh Carrots Ground Flax Seed Fresh Blueberries Lecithin Salt Phosphoric Acid (a natural acidifier) Garlic Powder Sorbic Acid (a preservative) Chondroitin Sulfate Ascorbic Acid (Vitamin C) Manganese Sulfate Zinc Sulfate Sodium Selenite.

Nutrition: Crude Protein 10% (min) Crude Fat 8% (min) Crude Fiber 3% (max) Moisture 30% (max) Glucosamine HCL 300 mg Chondroitin Sulfate 50 mg.

Benefit: Increased joi
List Price:
Price: 24.69
---
---
Does your child get enough exercise? You can get your children more active with these 5 fun parenting tips.