Fetal Alcohol Spectrum Disorders (FASD) refer to a range of disabilities, and include individuals with neurocognitive impairments as well as growth irregularities ranging from deficient to normal. However, very little is known about the prevalence of excessive weight and obesity as components of FASD in the long-term. A study examining body mass index (BMI) in a large clinical sample of children with FASD has found that rates of excess weight/obesity are elevated in children with partial fetal alcohol syndrome (pFAS).
Results will be published in the September 2014 online-only issue of Alcoholism: Clinical & Experimental Research and are currently available at Early View.
"Growth deficiency is a defining feature of FASD and typically babies and children with FASD have short stature and low weight," explained Jeffrey R. Wozniak, associate professor of psychiatry at the University of Minnesota, as well as corresponding author for the study. "Individuals with FAS, the most severe form of the condition, typically continue to show growth deficiency into adulthood. However, a number of FASD investigators have consistently heard from families that weight gain is a problem in adolescence and adulthood in some patients, and we thought it was important to examine this further."
"Because being underweight is part of the diagnostic criteria for FAS, and because the neurological consequences can be so profound, little attention has been given to the possibility that prenatal alcohol exposure (PAE) might also affect body weight in later life," added Susan Smith, a professor of nutritional sciences at the University of Wisconsin-Madison. "There have been anecdotal observations and several hints and clues that this may be a problem, but no real data."
Wozniak and his colleagues examined 617 children (257 males, 360 females), ages 2 to 19, who had been clinically evaluated for FASD between April 2005 and April 2013: 446 with an FASD diagnosis — FAS (n=64), pFAS (n=166), and Alcohol-Related Neurodevelopmental Disorder (n=216) — as well as 171 with no FASD diagnosis. Prevalence of being overweight/obese using the measure of BMI was compared to national and state prevalence, and also examined in relation to FASD diagnosis, gender, and age. Dietary intake data were additionally examined for a young sub-sample (n=42).
"We found that overweight and obesity were not necessarily a universal problem for those exposed prenatally to alcohol," said Wozniak, "but that there were specific patient characteristics that were associated with increased rates. Specifically, we found that those with pFAS were at particularly high risk for obesity and overweight during the adolescent years. We also found that females were at greater risk for obesity/overweight than males during adolescence."
"This study adds to suggestions that PAE might increase the risk for obesity/overweight as girls reach adolescence," concurred Smith. "However, there's a big caveat because the obesity rates were no different from U.S. norms, and were greater only when compared with girls in the geographic region of Minnesota. So there is not enough evidence to say
… Continue reading here.
Diet And Weight Loss News — Sciencedaily
— Courtesy "Science News Daily" (ScienceNewsDaily.com)
Make Intense Workouts Easy: http://sixpackshortcuts.com/rddT In today's video, we are going to do an awesome chest workout that is designed to get your chest…
Video Rating: 4 / 5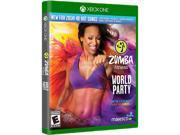 Zumba Fitness World Party Xbox One Brand: MAJESCO ESRB Rating: E – Everyone Genre: Music/Rhythm Platform: Xbox One Features: Only the premier global fitness brand can offer you an interactive experience so big it spans the Earth. For the first time ever, Zumba takes you on a cultural joyride around the world in Zumba Fitness World Party. Burn up to 1,000 calories per hour as you immerse yourself in the movement and music of exotic global destinations in this exhilarating at home workout that features a new visual presentation. World Party is the latest release in the best selling Zumba Fitness video game franchise that has sold more than nine million copies worldwide and ranks as the #2 fitness franchise of all time, second only to Nintendo's Wii Fit. This groundbreaking new dance fitness experience unites you with the global Zumba community while offering all of …
List Price:
Price: 49.99

Since its appearance in Guitar World in 1990, Vai's intensiveguitar regimen has been the Holy Grail for serious players. Here is thelesson that shaped a generation of guitarists. Vai sat down withguitarist/transcriber Dave Whitehill and outlined his practice routinefor the January 1990 issue of Guitar World. Never before had aguitarist given such an in-depth explanation of his musical exerciseregimen. It became a must-have for guitarists. Many of the playersinterviewed in GW have cited it as an influence on their development asguitarists. Here's a chance to experience the workout in its originalform and to learn some of the things Vai has done to develop hisformidable chops and remarkable music vocabulary.In this book,Steve Vai reveals his path to virtuoso enlightenment with twochallenging guitar workouts – one 10-hour and one 30-hour – whichinclude scale and chord exercises, ear training, sight-reading, musictheory, and much more. These comprehensive workouts are reprinted bypermission from Guitar World magazine.
Price: $ 14.99
Sold by Cascio Interstate Music[wpramazon asin="B00I9J7KSY"]
---
---
If you want to lose weight, you're not alone. More than half of Americans desire to shed pounds, according to Gallup. This goal inspires people to take action in many ways, from increasing exercise to modifying meals. One thing many people do is skip breakfast in order to lower calorie intake. While this may seem […]