Wellness coaching has become an increasingly prevalent strategy to help individuals improve their health and well-being. Recently, wellness coaching was found to improve quality of life, mood and perceived stress, according to a Mayo Clinic study published in Mayo Clinic Proceedings. Matthew Clark, Ph.D., L.P., lead author of the study and resiliency expert at the Mayo Clinic Healthy Living Program, answers some common questions about wellness coaching.
What is a wellness coach?
Wellness coaches are trained and certified by professional organizations to help individuals identify their personal values and desires for change. The coaches provide practical recommendations to help individuals transform their goals into action, in order to sustain the changes over time and improve their quality of life.
"Mayo Clinic wellness coaches assist patients, through a strength-based approach, in identifying goals and potential barriers to success, and then create strategies to help them improve on a week-by-week basis," explains Dr. Clark. "A strength-based approach recognizes that patients bring experience, knowledge and skills which will help them make positive lifestyle changes."
What are popular areas of improvement?
"Wellness coaching focuses on the specific problems someone wants to address, such as weight loss, stress management or goals focusing on work-life balance. We offer wellness coaching to help people have a better life, and improve their overall quality of life, whether it's socially, emotionally, spiritually, physically or mentally," says Dr. Clark.
How are these improvements maintained over time?
Wellness coaching teaches individuals appropriate goal-setting techniques, strategies for enhancing social and emotional support and other skills to sustain progress over a substantial period of time.
"In our recent study, we looked at participants three months after completing wellness coaching. We found that people not only maintained the changes, they exhibited signs of further improvement," says Dr. Clark. "Therefore, we did teach people the appropriate skills to improve their quality of life and maintain the changes."
Why has wellness coaching become increasingly prevalent?
Wellness coaching programs can be found in facilities throughout the country. Dr. Clark believes there are two main reasons causing the spike in popularity.
"First of all, wellness coaching does not pathologize or diagnose problems. If someone is having a difficult time losing weight or getting a good night's sleep, wellness coaching helps the individual feel like a normal person with a normal problem," he says. "Secondly, people enjoy Mayo Clinic's strength-based approach because it is empowering. We help people identify the resources that they already possess to make their desired improvements."
What is a common misconception?
Even though wellness coaching has become extremely popular, not much research is available. A few studies have demonstrated the positive effects wellness coaching has on weight management, smoking and physical activity.
Dr. Clark believes many more
… Continue reading here.
Diet And Weight Loss News — Sciencedaily
— Courtesy "Science News Daily" (ScienceNewsDaily.com)
Cast your vote for BAJHEERA to become INTEL'S NEXT TOP LIVESTREAMER every day at http://intl.gg (Bajheera_1UP Bonus Code for multiple daily votes!) 😀 Also be sure to Tweet the hashtag #BajheeraINT…
[wpramazon asin="B00ITTGMT2″]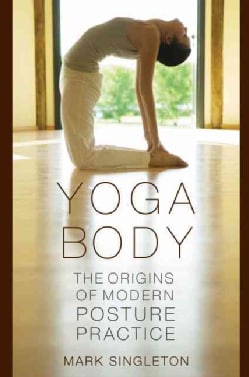 Yoga is so prevalent in the modern world–practiced by pop stars, taught in schools, and offered in yoga centers, health clubs, and even shopping malls–that we take its presence, and its meaning, for granted. But how did the current yoga boom happen? And is it really rooted in ancient Indian practices, as many of its adherents claim?
In this groundbreaking book, Mark Singleton calls into question many commonly held beliefs about the nature and origins of postural yoga (asana) and suggests a radically new way of understanding the meaning of yoga as it is practiced by millions of people across the world today. Singleton shows that, contrary to popular belief, there is no evidence in the Indian tradition for the kind of health and fitness-oriented asana practice that dominates the global yoga scene of the twenty-first century. Singleton's surprising–and surely controversial–thesis is that yoga as it is popularly practiced today owes a greater debt to modern Indian nationalism and, even more surprisingly, to the spiritual aspirations of European bodybuilding and early 20th-century women's gymnastic movements of Europe and America, than it does to any ancient Indian yoga tradition. This discovery enables Singleton to explain, as no one has done before, how the most prevalent forms of postural yoga, like Ashtanga, Bikram and "Hatha" yoga, came to be the hugely popular phenomena they are today.
Drawing on a wealth of rare documents from archives in India, the UK and the USA, as well as interviews with the few remaining, now very elderly figures in the 1930s Mysore asana revival, Yoga Body turns the conventional wisdom about yoga on its head.
List Price:
Price: 12.79
---
---
If you want to lose weight, you're not alone. More than half of Americans desire to shed pounds, according to Gallup. This goal inspires people to take action in many ways, from increasing exercise to modifying meals. One thing many people do is skip breakfast in order to lower calorie intake. While this may seem […]