In a study of 1,979 overweight and obese adults in the UK, people who lost 5% or more of their initial body weight over four years showed significant changes in markers of physical health, but were more likely to report depressed mood than those who stayed within 5% of their original weight.
The research, published in PLOS ONE, highlights the need to consider mental health alongside physical health when losing weight. Clinical trials of weight loss have been shown to improve participants' mood, but this could be a result of the supportive environment rather than the weight loss itself, as the effects are seen very early on in treatment and are not related to the extent of weight loss.
It's important to note this new result does not mean that weight loss necessarily causes depression directly, as depression and weight loss may share a common cause. However, it shows that weight loss outside the clinical trial setting cannot be assumed to improve mood and raises questions about the psychological impact of weight loss.
The data came from the English Longitudinal Study of Ageing, a UK study of adults aged 50 or older, and excluded participants with a diagnosis of clinical depression or a debilitating illness. Depressed mood and overall wellbeing were assessed using standard questionnaires and weight was measured by trained nurses
Of the 1,979 overweight and obese participants, 278 (14%) lost at least 5% of their initial body weight with a mean weight loss of 6.8kg per person. Before adjusting for serious health issues and major life events such as bereavement, which can cause both weight loss and depressed mood, the people who lost weight were 78% more likely to report depressed mood. After controlling for these, the increased odds of depressed mood remained significant at 52%.
"We do not want to discourage anyone from trying to lose weight, which has tremendous physical benefits, but people should not expect weight loss to instantly improve all aspects of life," says lead author Dr Sarah Jackson (UCL Epidemiology & Public Health). "Aspirational advertising by diet brands may give people unrealistic expectations about weight loss. They often promise instant life improvements, which may not be borne out in reality for many people. People should be realistic about weight loss and be prepared for the challenges.
"Resisting the ever-present temptations of unhealthy food in modern society takes a mental toll, as it requires considerable willpower and may involve missing out on some enjoyable activities. Anyone who has ever been on a diet would understand how this could affect wellbeing. However, mood may improve once target weight is reached and the focus is on weight maintenance. Our data only covered a four year period so it would be interesting to see how mood changes once people settle into their lower weight.
"Healthcare professionals should monitor patients' mental as well as physical health when recommending or responding to weight loss, and offer support
… Continue reading here.
Diet And Weight Loss News — Sciencedaily
— Courtesy "Science News Daily" (ScienceNewsDaily.com)
Flavia Del Monte shows you how to do a quick 20 minute workout that will burn calories all day long. Follow along with this great leg workout for women and get more great workouts by subscribing…
Video Rating: 4 / 5

Nowhere to store your post-workout wardrobe? No sweat. A private compartment for your moistened gym clothes is the answer from Kept. Sexy and sporty, it fits right into your larger duffel. So here's to rewarding yourself for your commitment to fitness. Besides, any other gym bag just stinks. * Dimensions: 18″ x 13″ * Nylon/cotton blend * Each bag comes tied with a black grosgrain ribbon * As seen in UsWeekly! Color: Khaki
Price: $ 8.00
Sold by Shopmanhattanite[wpramazon asin="B0013VBGSA"]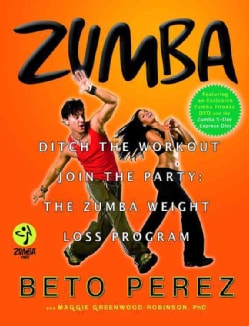 TIRED OF LOGGING HOURS AT THE GYM AND NOT GETTING RESULTS?
WANT TO EAT DELICIOUS FOODS AND STILL LOSE WEIGHT?
SHAKE THINGS UP AND SLIM DOWN WITH THE WEIGHT LOSS PHENOMENON THAT'S TAKING THE COUNTRY BY STORM…ZUMBA!
Created by celebrity fitness trainer Beto Perez, Zumba® combines fun, easy-to-follow dance steps with hot Latin beats to help you shed pounds and inches fast. Now the DVD and classes that have hooked millions are available in book format, with a complete workout program, fat-burning diet, as well as a DVD with a 5-minute instructional demo that shows the basic moves you'll need to learn plus 60 minutes worth of music to help you Zumba your way to the perfect body.
Using the principles of interval and resistance training, the simple dance and sculpting moves (inspired by the traditional cumbia, salsa, samba, and merengue) tone and shape your body. And because it burns 600 to 1,000 calories per hour, you don't have to restrict your meals to boring or bland-tasting diet foods. The Zumba diet begins with a 5-Day Express Diet to jump start weight loss (lose up to 9 lbs in 5 days) and then offers 14-day meal plans and recipes that target weight loss in the stomach and thighs. You'll find:
· Hot moves that make you feel like you're on the dance floor-not on the elliptical machine!
· Recipes for mouthwatering meals that boost your metabolism
· Dozens of workout combinations so you never get bored
· An exclusive jump-start program to get you ready for that big event next weekend
· An easy plan to help you keep up your progress and maintain the weight loss
So start moving, grooving and losing with Zumba today!

List Price:
Price: 25.00
---
---
Does your child get enough exercise? You can get your children more active with these 5 fun parenting tips.