The term plyometrics is usually used to refer to explosive lower-body exercises such as skips, hops, jumps and bounds. However, plyometric training is also important for the upper body as well. According to the principle of specificity, muscles adapt to how they are trained. Therefore, doing jumps can improve lower-body power, but it will not have any affect on the muscles of the upper body. If the goal is to help improve upper-body power for activities like swinging a racquet, bat or club, or simply to have more strength to handle common tasks like picking up a child or carrying a heavy bag, then it can be important to do plyometric training specifically for the upper body. 
Plyometric training was originally called "shock training" by the Soviet sport scientists who developed the technique. Plyometric training works by initiating a rapid contraction of the muscle fibers, which places tension on the elastic connective tissue. The faster the elastic tissue lengthens, the faster and more explosively it can shorten, which leads to higher levels of muscle power output. 
When starting a plyometric training program, whether for upper- or lower-body muscles, it is important to start with a low volume of low-intensity exercises because of the magnitude of forces placed on the muscle and connective tissue. For best results, plyometric training should focus on only a few repetitions at a time so the maximum amount of force can be applied with each rep. 
Upper-body plyometric exercises can be performed using body weight only or equipment such as medicine balls, sandbags, dumbbells, barbells and kettlebells. Medicine balls, in particular, are an excellent tool for developing upper-body power because they can be both thrown and caught. When catching a medicine ball, the muscles are rapidly lengthened, which allows them to explosively shorten during the throwing phase, thus providing the elastic energy for the plyometric effect. Throwing a medicine ball allows you to accelerate all of the way through the movement to create the highest level of force possible as the ball leaves the hands. 
It is important to note that there are two specific types of medicine balls: live and dead. Live medicine balls bounce and are good for exercises requiring an explosive return. Conversely, dead balls are filled with gel or sand and do not bounce when hitting the ground. When learning explosive upper-body exercises, it is recommended to start with dead balls or sandbags to teach proper throwing form before learning how to catch and decelerate a ball. It is also important to allow enough time between sets for the muscles to fully rest and recover to prepare for the next set of explosive actions. 
To develop optimal levels of upper-body power, it is important to involve the entire body and generate force by keeping the legs firmly planted on the ground. Pushing through the ground with the lower body can use the ground-reaction forces to rapidly accelerate the object being
… Continue reading here.
Fitnovatives Blog — Courtesy "American Council On Exercise" (ACEfitness.org)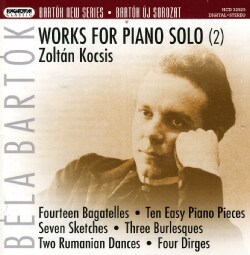 Disc 1: Bagatelles (14) for piano, Sz. 38, BB 50 (Op. 6): Molto sostenuto Bagatelles (14) for piano, Sz. 38, BB 50 (Op. 6): Allegro giocoso Bagatelles (14) for piano, Sz. 38, BB 50 (Op. 6): Andante Bagatelles (14) for piano, Sz. 38, BB 50 (Op. 6): Grave Bagatelles (14) for piano, Sz. 38, BB 50 (Op. 6): Vivo Bagatelles (14) for piano, Sz. 38, BB 50 (Op. 6): Lento Bagatelles (14) for piano, Sz. 38, BB 50 (Op. 6): Allegretto molto capriccioso Bagatelles (14) for piano, Sz. 38, BB 50 (Op. 6): Andante sostenuto Bagatelles (14) for piano, Sz. 38, BB 50 (Op. 6): Allegretto grazioso Bagatelles (14) for piano, Sz. 38, BB 50 (Op. 6): Allegro Bagatelles (14) for piano, Sz. 38, BB 50 (Op. 6): Allegretto molto rubato Bagatelles (14) for piano, Sz. 38, BB 50 (Op. 6): Rubato Bagatelles (14) for piano, Sz. 38, BB 50 (Op. 6): Lento funebre (Elle est morte) Bagatelles (14) for piano, Sz. 38, BB 50 (Op. 6): Valse (Ma mie qui danse) ('Szeret m t ncol' ('My Dancing Sweetheart')) Ten Easy Pieces (Tiz k nnyu zongoradarab), for piano, Sz. 39, BB 51: Aj nl s (Dedication) Ten Easy Pieces (Tiz k nnyu zongoradarab), for piano, Sz. 39, BB 51: Paraszti n ta (Peasant Song) Ten Easy Pieces (Tiz k nnyu zongoradarab), for piano, Sz. 39, BB 51: Lass verg d s (Painful Struggle) Ten Easy Pieces (Tiz k nnyu zongoradarab), for piano, Sz. 39, BB 51: T t leg nyek t nca (Slovak Boys' Dance) Ten Easy Pieces (Tiz k nnyu zongoradarab), for piano, Sz. 39, BB 51: Sostenuto Ten Easy Pieces (Tiz k nnyu zongoradarab), for piano, Sz. 39, BB 51: Este a sz kelyekn l (Evening in Transylvania) Ten Easy Pieces (Tiz k nnyu zongoradarab), for piano, Sz. 39, BB 51: 'G d llei piact rre leesett a h ' (Hungarian Folksong) Ten Easy Pieces (Tiz k nnyu zongoradarab), for piano, Sz. 39, BB 51: Hajnal (Dawn) Ten Easy Pieces (Tiz k nnyu zongoradarab), for piano, Sz. 39, BB 51: 'Azt mondj k, nem adnak' (Folksong) Ten Easy Pieces (Tiz k nnyu zongoradarab), for piano, Sz. 39, BB 51: Ujjgyakorlat (Five-Finger Exercise) Ten Easy Piece
List Price:
Price:

Here are four lovely flowing chorales that can be performed but are constructed for use in an instructional format. The first mode, Dorian has two associated movements entitled? Allemande? and? Vocalise. The second mode is Phrygian with the related movements? Chorale? and? Pavane. Percussionists are included in both the modal instruction and the warm-up exercise on a variety of instruments. (6:38) Warner Bros. Belwin Concert Band Jerry Brubaker
Price: $
Sold by Cascio Interstate Music


CanDo Perf-100 economic bulk size roll is the best value for large clinics* The CanDo Perf 100 offers a true 100 yard roll of exercise band in a convenient dispenser box* The band is perforated every 5 feet* There are 60 5-foot exercisers in each roll* To prepare exercise band for use simply pull 5 foot length from dispenser box and separate perforation line by hand* No scissors are needed!* CanDo high quality latex resistive exercise band has been used in clinics for rehabilitation, conditioning and training since 1987* It has become a well known staple of many physical therapy programs* CanDo exercise band is an economic solution for upper and lower body exercise* Lightweight, compact and portable* Durable* Effective when used alone, or with handles and anchors* Color-coded according to the exercise band?s resistance* CanDo is licensed to use the Thera-Band color sequence so resistance level is easily identified* Available in 8 levels of resistance for progressive exercise* Levels range in order of strength from least to greatest resistance: tan, yellow, red, green, blue, black, silver, gold* Uniform width – each band is 5″ wide* CanDo low powder exercise band is made of natural rubber latex, which may cause allergic reactions* For those with latex sensitivities, there are latex-free alternative offerings of CanDo exercise band* Malaysia
List Price: $ 109.10
Price: $ 109.10
---
---
If you are searching for a proven means to attain a healthy body in a healthy mind, then this time-tested system is for you. It is intensively researched and molded into a combined system by the Indian gurus down the ages. Be it spiritual, mental or physical, this technique can be practiced by anybody at […]