High-fat diets have long been known to increase the risk for medical problems, including heart disease and stroke, but there is growing concern that diets high in fat might also increase the risk for depression and other psychiatric disorders.
A new study published in the current issue of Biological Psychiatry raises the possibility that a high-fat diet produces changes in health and behavior, in part, by changing the mix of bacteria in the gut, also known as the gut microbiome.
The human microbiome consists of trillions of microorganisms, many of which reside in the intestinal tract. These microbiota are essential for normal physiological functioning. However, research has suggested that alterations in the microbiome may underlie the host's susceptibility to illness, including neuropsychiatric impairment.
This led researchers at Louisiana State University to test whether an obesity-related microbiome alters behavior and cognition even in the absence of obesity.
Non-obese adult mice were conventionally housed and maintained on a normal diet, but received a transplant of gut microbiota from donor mice that had been fed either a high-fat diet or control diet. The recipient mice were then evaluated for changes in behavior and cognition.
The animals who received the microbiota shaped by a high-fat diet showed multiple disruptions in behavior, including increased anxiety, impaired memory, and repetitive behaviors. Further, they showed many detrimental effects in the body, including increased intestinal permeability and markers of inflammation. Signs of inflammation in the brain were also evident and may have contributed to the behavioral changes.
"This paper suggests that high-fat diets impair brain health, in part, by disrupting the symbiotic relationship between humans and the microorganisms that occupy our gastrointestinal tracks," commented Dr. John Krystal, Editor of Biological Psychiatry.
Indeed, these findings provide evidence that diet-induced changes to the gut microbiome are sufficient to alter brain function even in the absence of obesity. This is consistent with prior research, which has established an association between numerous psychiatric conditions and gastrointestinal symptoms, but unfortunately, the mechanisms by which gut microbiota affect behavior are still not well understood.
Further research is necessary, but these findings suggest that the gut microbiome has the eventual potential to serve as a therapeutic target for neuropsychiatric disorders.
Story Source:
The above story is based on materials provided by Elsevier. Note: Materials may be edited for content and length.
Original story here.
Diet And Weight Loss News — Sciencedaily
— Courtesy "Science News Daily" (ScienceNewsDaily.com)
ADAM ETCHES MEDIA WORKOUT @ INGLE GYM AHEAD OF CLASH WITH KHOMITSKY / UNBREAKABLE.
Video Rating: 5 / 5

Build Brain Mass While Toning Your Methuselah Muscles Think the Bible is boring? Think again The Great Bible Trivia Workout will delight and amuse you with a fun collection of trivia covering the entire Bible. Shape up your knowledge of Old and New Testament people, places, and things with multiple-choice quizzes, top-ten lists, true/false tests, and even some Bible-based ditties written to favorite tunes.Brad Densmore offers a true challenge of Bible knowledge with a dose of humor along the way, giving you all new Aha moments such as these: -"Ouch Painful and/or Unusual ways to Die": Sisera bit the dust after an encounter with the business end of a tent peg.-"Whatever Floats Your Boat: " Noah was 600 years old at the time of the flood, true or false?-"Top Ten Old Testament Stocks": including MicahSoft and General Ecclesiastes-What do Tamar, Absalom, and the Shulammite woman have in common? They were all noted for their good looks Ready for your workout? Go for it You haven't had this much fun since you hid a mouse in that stuffy Sunday school teacher's desk.
List Price:
Price: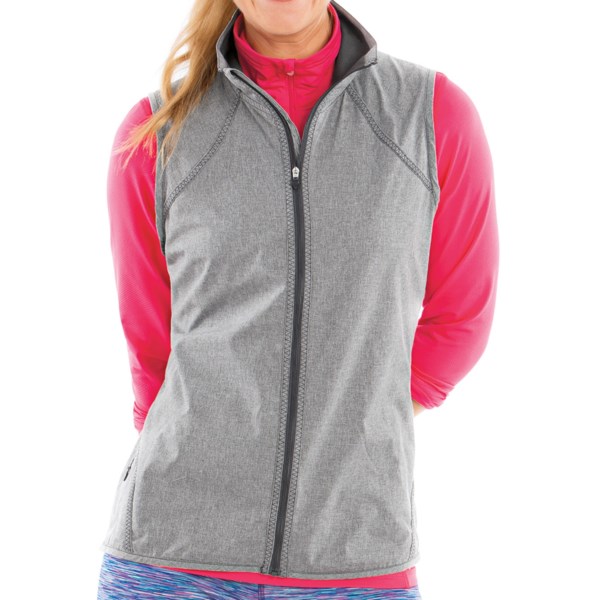 CLOSEOUTS. Effortlessly stylish and weather resistant, Moving Comfortand#39;s Sprint Wind vest has a semi-form fit and adds a layer of core protection. Available Colors: EBONY CROSSHATCH, PIXIE CROSSHATCH. Sizes: XS, S, M, L, XL, 1X, 2X.
Price: $
Sold by Sierra Trading Post[wpramazon asin="B00QJ7YSC4″]
---
---
Does your child get enough exercise? You can get your children more active with these 5 fun parenting tips.