Obstructive sleep apnea (OSA) is prevalent in obese, pregnant Asian women with gestational diabetes, even when their diabetes is controlled by diet, a new study from Thailand finds. Study results, which also connect the severity of sleep disordered breathing with higher blood glucose (sugar) levels and greater daytime sleepiness, will be presented on Saturday at the Endocrine Society's 97th annual meeting in San Diego.
In 25 women with diet-controlled gestational (pregnancy) diabetes, the researchers found a 56 percent prevalence of OSA, a sleep disorder in which a person stops breathing for brief episodes during sleep. This OSA prevalence is similar to how often nonpregnant adults with Type 2 diabetes have OSA, according to the study authors.
"OSA may be an important co-morbidity [co-existing illness] in women with gestational diabetes mellitus," said a study investigator, Sirimon Reutrakul, MD, associate professor at Mahidol University Faculty of Medicine, Bangkok, Thailand. "Our results will have to be confirmed in a larger study but potentially have an impact for patient care."
As many as 9.2 percent of pregnant women develop gestational diabetes, the U.S. Centers for Disease Control and Prevention estimates. Being overweight or obese is a risk factor.
Participants of the new study were considered obese using the World Health Organization cutoff for Asian women of a body mass index (BMI) before pregnancy of 25 kg/m2 or more. The women were between 24 and 34 weeks pregnant, and all had diet-controlled gestational diabetes.
OSA was diagnosed using a home monitoring device (Watch-PAT200, Itamar Medical) worn on the participant's wrist overnight. The U.S. Food and Drug Administration (FDA) has approved this device for detecting OSA. It measures overnight changes in oxygen level in the blood, called oxygen saturation, together with changes in peripheral arterial tone, the degree of blood vessel constriction in the fingers, in response to breathing disruptions. Reutrakul said the Watch-PAT200 had a good correlation with polysomnography, an overnight sleep study conducted in a special lab, when tested in pregnant women and others.
Of the 14 study participants found to have OSA, 12 women had mild sleep apnea and 2 had moderately severe apnea, the investigators reported. There were no differences between women who had OSA and those who did not have this sleep disorder other than a tendency for the OSA group to have a higher average pre-pregnancy BMI than the other group (31.2 vs 29.0 kg/m2).
In this study, lower oxygen saturation was strongly associated with greater reported daytime sleepiness. Also, the researchers found that the lower the lowest oxygen saturation level measured, the higher the level of blood sugar on the fasting blood glucose test. Although this study cannot determine causality–whether OSA leads to high blood sugar or vice versa–Reutrakul said previous studies in healthy humans show that lowering one's oxygen level can lead to impaired glucose metabolism.
"If a future study confirms our results, the next step is to explore if treating OSA in these
… Continue reading here.
Diet And Weight Loss News — Sciencedaily
— Courtesy "Science News Daily" (ScienceNewsDaily.com)
If you loved this workout, then you'll really LOVE my online members' section. Get exclusive access to my full length HiiT Home Workouts, Recipes, My Practical Approach to Intermittent Fasting…
Video Rating: 4 / 5

Looking to speed up your recovery time? Try Zoot's NEW Recovery 2.0 CRx Socks with graduated muscle-specific zones of compression Places direct pressure on the muscles to prevent post-exercise swelling by forcing lactic acid out of the muscles, thus speeding post-workout recovery. ZoneRx applies compression precisely where your muscles need it. Better for performance, better for recovery. Try it. You'll feel the benefits. See our Size Charts tab for circumferential sizing information. Scientifically tested. Athlete approved.Fabric:Places direct pressure on the muscles to prevent post-exercise swelling by forcing lactic acid out of the muscles, thus speeding post-workout recoveryCRx = improved blood circulationZoneRx = increased oxygen delivery to musclesAnatomically correct left and right foot construction allows targeted pressure to speed post-workout recoveryAchilles tendon support protects and prevents irritable tendonsPadded foot soles for recovery comfort to prevent foot irritationsCompressive arch support to promote blood flow out of the foot and reduce fatigueAir-Zone for breathability on top of the foot18-30mmHg
List Price: 65.0
Price: 65.00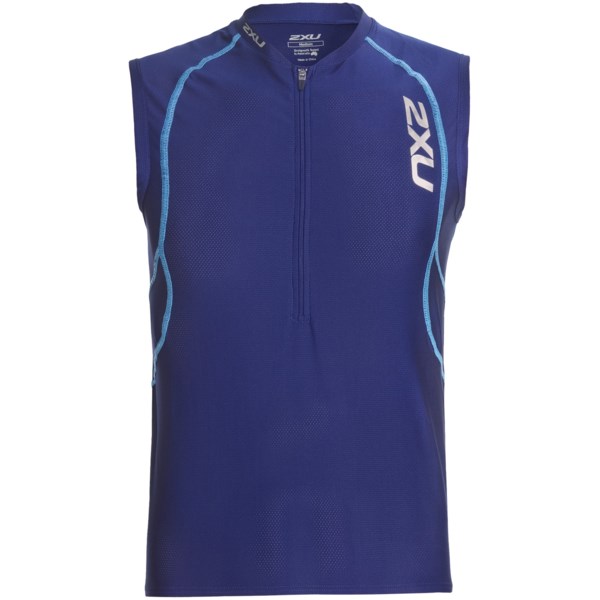 CLOSEOUTS. As you navigate through the water and move across land, 2XU's Active Tri singlet top provides unrivalled breathability and moisture control. Available Colors: BLACK, MARINE BLUE/CLOUD BLUE, VENERE RED/GREY, WHITE. Sizes: S, M, L, XL, 2XL.
Price: $ 65.00
Sold by Sierra Trading Post


Meet the Men's HeatGear Sonic Fitted Sleeveless Workout Shirt for men. Under Armour started the "performance" revolution in sportswear with the original HeatGear(R). But since "relentless innovation" is part of their motto, they didn't stop there. This latest fabric takes comfort to the next level–lighter, with a sleek, softer feel that you can wear all day. Ultra-soft, smooth fabric provides extreme comfort with very little weight 4-way stretch fabrication allows greater mobility and maintains shape Signature Moisture Transport System wicks sweat away from the body Anti-odor technology prevents the growth of odor causing microbes 30+ UPF protects your skin from the sun's harmful rays Smooth, chafe-free flatlock seam construction Engineered mesh neck Imported Fit – Fitted; next-to-skin without the squeeze Fabric – Polyester/Elastane Size XL Color Black/Steel
List Price: $ 24.99
Price: $ 24.99
[wpramazon asin="B00GZS039Y"]
---
---
Does your child get enough exercise? You can get your children more active with these 5 fun parenting tips.