The U.S. Food and Drug Administration has approved the Maestro Rechargeable System for certain obese adults, the first weight loss treatment device that targets the nerve pathway between the brain and the stomach that controls feelings of hunger and fullness.
The Maestro Rechargeable System, the first FDA-approved obesity device since 2007, is approved to treat patients aged 18 and older who have not been able to lose weight with a weight loss program, and who have a body mass index of 35 to 45 with at least one other obesity-related condition, such as type 2 diabetes.
BMI, which measures body fat based on an individual's weight and height, is used to define the obesity categories. According to the Centers for Disease Control and Prevention, more than one-third of all U.S. adults are obese, and people with obesity are at increased risk of heart disease, stroke, type 2 diabetes and certain kinds of cancer.
"Obesity and its related medical conditions are major public health problems," said William Maisel, M.D., M.P.H., deputy director for science and chief scientist in the FDA's Center for Devices and Radiological Health. "Medical devices can help physicians and patients to develop comprehensive obesity treatment plans."
The Maestro Rechargeable System consists of a rechargeable electrical pulse generator, wire leads and electrodes implanted surgically into the abdomen. It works by sending intermittent electrical pulses to the trunks in the abdominal vagus nerve, which is involved in regulating stomach emptying and signaling to the brain that the stomach feels empty or full. Although it is known that the electric stimulation blocks nerve activity between the brain and the stomach, the specific mechanisms for weight loss due to use of the device are unknown.
External controllers allow the patient to charge the device and allow health care professionals to adjust the device's settings in order to provide optimal therapy with minimal side effects.
The safety and effectiveness of the Maestro Rechargeable System were evaluated in a clinical trial that included 233 patients with a BMI of 35 or greater. The weight loss and adverse events of 157 patients who received the active Maestro device (the experimental group) were compared to 76 patients in the control group who received a Maestro electrical pulse generator that was not activated. The study found that after 12 months, the experimental group lost 8.5 percent more of its excess weight than the control group. About half (52.5 percent) of the patients in the experimental group lost at least 20 percent of their excess weight, and 38.3 percent of patients in the experimental group lost at least 25 percent of their excess weight.
The clinical study did not meet its original endpoint, which was that the experimental group lose at least 10 percent more excess weight than the control group. However, an FDA Advisory Committee (the Gastroenterology and Urology Devices Panel) found the 18-month data supportive of sustained weight loss, and agreed that the benefits of the device outweighed
… Continue reading here.
Diet And Weight Loss News — Sciencedaily
— Courtesy "Science News Daily" (ScienceNewsDaily.com)
This is probably the most fun cardio workout I've ever filmed! Great music and new moves. I know you will sweat and laugh! The 2015 Fit Planner is available:…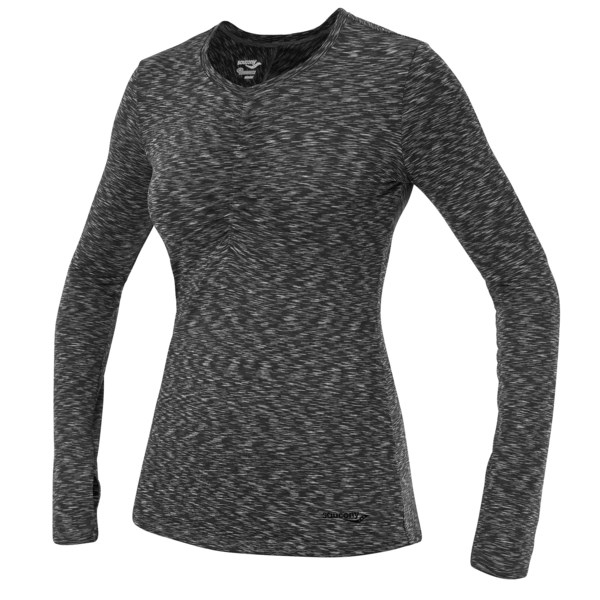 CLOSEOUTS. A sporty favorite, Sauconyand#39;s Ruched shirt features a ruched center seam and an athletic fit, complete with stretchy-soft, moisture-wicking fibers to keep you cool and dry. Available Colors: BERRY CRUSH, PHANTOM, VIZIPRO CORAL. Sizes: XS, S, M, L, XL.
Price: $ 55.00
Sold by Sierra Trading Post


WHAT'S IT DO? Meet the Under Armour HeatGear Sonic Fitted Sleeveless Workout Shirt for men. Under Armour started the "performance" revolution in sportswear with the original HeatGear(R). But since "relentless innovation" is part of their motto, they didn't stop there. This latest fabric takes comfort to the next level-lighter, with a sleek, softer feel that you can wear all day. THE FUNDAMENTALS FITTED – Sits close to the skin for a streamlined fit without the squeeze of compression. Ultra-soft, smooth fabric provides extreme comfort with very little weight 4-Way Stretch fabrication allows greater mobility and maintains shape Signature Moisture Transport System wicks sweat away from the body Anti-Odor technology prevents the growth of odor causing microbes 30+ UPF protects your skin from the sun's harmful rays Smooth, chafe-free flatlock seam construction Engineered mesh neck Imported Fabric – Polyester/Elastane Size L Color White/Steel
List Price: $ 24.99
Price: $ 19.99
---
---
Does your child get enough exercise? You can get your children more active with these 5 fun parenting tips.