New research suggests that a high-fat maternal diet during pregnancy and while breastfeeding could have significant and lasting detrimental effects on the brain function and behavior of children. The study is one of few basic science studies conducted to measure the direct effect of a high-fat maternal diet on the cognitive functioning on offspring. Results from this study, and others related to obesity and pregnancy, will be presented today during an oral presentation by author Kellie Tamashiro, PhD, Associate Professor of Psychiatry and Behavioral Sciences at Johns Hopkins University at 3:30pm ET at The Obesity Society Annual Meeting at ObesityWeekSM 2014 in Boston, Mass.
"Our results using an animal model suggest that a maternal high-fat diet during pregnancy and lactation could have significant and lasting effects on the brain, behavior and cognition of rat pups," said Dr. Tamashiro. "Rat offspring born to mothers on a high-fat diet not only have a strong preference for foods high in fat and weigh more, but also have impaired glucose tolerance and are less responsive to a standard appetite suppressant."
The study was conducted in rats, which included 24 pregnant subjects; 12 were fed standard chow and 12 were fed a high-fat diet, similar to the typical American diet. Researchers evaluated the behavior of the offspring through a variety of tests. The offspring of mothers fed the high-fat diet also weighed more, ate more, and had a stronger preference for high-fat foods. Further, they were less active, less responsive to amphetamine, and had impaired object recognition. The male offspring of mothers fed the high-fat diet showed altered gene expression in the hippocampus which persisted through adulthood. The researchers found similar effects in female rat offspring in the tests used.
"We know that high-fat diets are tied to increased risk for metabolic syndrome and obesity, which in turn are associated with decreased brain function," said TOS spokesperson Kelly Allison, PhD, Director of Education, Center for Weight and Eating Disorders and Associate Professor of Psychology in Psychiatry at the Hospital of the University of Pennsylvania Health System. "However, this is a rare study measuring the direct effect of high-fat diets of pregnant rats on the brain function of their offspring, and it provides further incentive for childbearing women to eat a varied and nutritious diet."
Dr. Tamashiro reinforced that more research is needed before extending these findings to humans. "While the data suggests we need to exercise caution when considering the implications of high-fat diets during pregnancy, we can't yet make that leap to apply these findings in animal models directly to humans," said Dr. Tamashiro. "More studies are needed in pregnant women to confirm what this research implies."
A second study to be presented at ObesityWeek looks further into the impact of maternal obesity and its influence on child body composition during the first six years of life, beginning at age three months. Aline Andres, PhD, Associate Professor in the
… Continue reading here.
Diet And Weight Loss News — Sciencedaily
— Courtesy "Science News Daily" (ScienceNewsDaily.com)
Download Voll : Download :https://www.facebook.com/shreddedathletics/app_208195102528120?ref=page_internal Facebook : www.facebook.com/shreddedathletics Instagram : shredded_athletics …


Stay drier during sweaty workouts and boost your performance wearing a technical tee crafted in an updated, technical fabric. The North Face Reaxion Amp Crew Short Sleeve Men's Workout Top feels like cotton while providing exceptional moisture management. A drop-tail hem gives you extra coverage when you're executing a set of pull-ups or deep squats. Technical fabric is soft to the touch Set-in sleeves Drop-tail hem Locker loop Pop logo Contrast chain stitch Imported Guarantee : Lifetime Warranty Length from Center Back : 27.5″ Fabric : 132 g/m 100% polyester knit Size XXL Color TNFWhite
List Price: $ 24.95
Price: $ 17.47

NOTE: The Wii Remote Belt is included with purchase of this title, but not with rental.
Groove your way to rock-hard abs in this Zumba challenge that features the most rhythm styles of any dance or fitness game! Get a full-body workout that focuses on your core by dancing to 40 songs in a variety of Zumba styles, including Salsa, Bollywood, Reggaton, Cumbia, Brazilian, African, Disco, Jive, and more. Returning experts Beto, Gina Grant, Tanya Beardsley, and Kass Martin are joined by new celebrity instructors Loretta Bates and Nicholas Logrea. Hit the expanded tutor
List Price:
Price: 14.99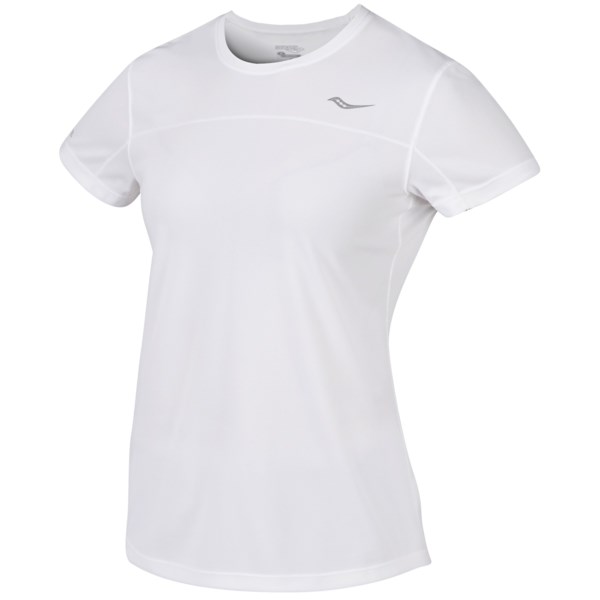 CLOSEOUTS. Softer and smoother than the skin you were born with, Sauconyand#39;s HydraMAX II shirt provides superior ventilation and moisture management with a performance fit that caters to your active lifestyle. Available Colors: COBALT, PASSION PURPLE, WHITE. Sizes: XS, M, L, XL, S.
Price: $ 30.00
Sold by Sierra Trading Post
---
---
Does your child get enough exercise? You can get your children more active with these 5 fun parenting tips.