Even though it has not aired a new episode since May 1998 (yes, it has been that long), it seems as if there is a Seinfeld episode for almost every one of life's situations.
One of my personal favorites is the "Worlds Collide" episode, where George Costanza is trying to keep his relationship persona separate from the "Independent George" identity he adopts when hanging out with Jerry, Kramer and Elaine. When Susan, the woman he is dating, contacts Elaine for a casual social outing, George becomes upset because he doesn't want his "Relationship George" world colliding with the sanctuary of "Independent George."
Like George, the commercial fitness industry has two distinctly different, yet parallel worlds that seldom come in contact with one another. Walk into almost any large commercial health club and you will see "Group Fitness World" and "Personal Training World." Both can be extremely important for helping members receive the benefits of exercise, yet each go about it in completely different ways. As a result, many health and fitness professionals have separated themselves into one of these two worlds, with a number of personal trainers often looking down on group fitness and telling their clients NOT to take classes. (I recently overheard a trainer tell his client to not take an indoor cycling class because it could make her legs big, and my wife, a group fitness instructor, has had students say their trainers told them to stop taking classes if they want to see results.)
Unlike George, who wants to keep his relationship and independent worlds separate, personal trainer
s should not only be comfortable with their clients existing in both worlds, they should also consider teaching group fitness classes. As a personal trainer who learned how to teach the year that Seinfeld went off the air, I can attest to the fact that learning how to teach group fitness opens up a variety of career-enhancing opportunities.
If you are a personal trainer looking to enhance your career or establish a more consistent income stream, here are seven reasons you should consider teaching group fitness:
1. Marketing opportunities.
Teaching group classes is a way to meet club members who are interested in getting results from their memberships. Members who take your classes are more likely to think of you if they decide to invest in personal training sessions. Personally, I consider teaching group fitness classes as a great opportunity to market my training skills to many potential clients at one time.
2. Your own space.
When teaching group classes, you have dedicated studio space and equipment. This means you're
… Continue reading here.
Expert Articles — Courtesy "American Council On Exercise" (ACEfitness.org)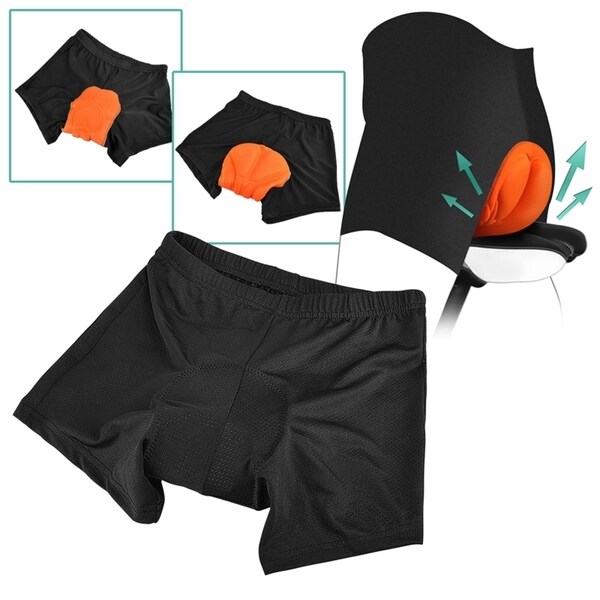 This is an INSTEN Cycling Short Pants. Your perfect cycling or sports outfit. Enjoy your ride in comfort with these orange and black Insten men's silicone gel 3D padded cycling shorts. Built from polyester and spandex with silicone padding, these shorts keep you going on those long rides where comfort plays a large role. These shorts are available in a variety of sizes to fit nearly any rider. Quantity: 1 Color: Orange/Black Size: M Waist size: 52-94 cm/20.5- 37 inches Pants length: 27 cm/ 10.6 inches Leg size: 42 cm/ 16.5Inches Size: L Waist size: 56-100 cm/22- 39.4 inches Pants length: 28 cm/ 11 inches Leg size: 44 cm/ 17.3Inches Size: XL Waist size: 60-106 cm/23.6- 41.7 inches Pants length: 29 cm/ 11.4 inches Leg size: 46 cm/ 18.1Inches Size: XXL Waist size: 64-112 cm/25.2- 44.1 inches Pants length: 30 cm/ 11.9 inches Leg size: 48 cm/ 18.9 inches Size: XXXL Waist size: 68-116 cm/26.8- 45.7 inches Pants length: 31 cm/ 12.2 inches Leg size: 50 cm/ 19.7 inches Material: Polyester/sPandex fabrics and silicone Lightweight and extremely breathable Real silicone gel pad,cool-max material and 3D design provide maximum performance and comfort All rights reserved. All trade names are registered trademarks of respective manufacturers listed. California Proposition 65 WARNING: This product may contain one or more chemicals known to the State of California to cause cancer, birth defects, and/or other reproductive harm.
List Price:
Price:

Proper nutrition is important to the food health and long life of your bird. Nutri-Berries Tropical Fruit for Parakeets, Cockatiels and Lovebirds was formulated for that very reason. It contains nutritious and natural ingredients rolled into berry-shaped pieces and coated with vitamins, minerals and protein. Because of their berry shape, they minimize leftovers and mess. Tropical Fruit Nutri-Berries are veterinarian recommended and provides lots of beak exercise. Perfect for parakeets, cockatiels, lovebirds and conures. Ingredients: Cracked corn, hulled white proso millet, safflower, malto-dextrin, papaya, red millet, pineapple, banana, peanuts, corn syrup, corn oil, glycerine, propylene glycol, wheat, whole egg, hulled oats, soybean meal, corn gluten meal, dicalcium phosphate, ground limestone, dl-methionine (an essential amino acid), l-lysine (an essential amino acid), potassium sorbate (a preservative), vitamin A supplement, vitamin D3 supplement, vitamin E supplement, ethoxyquin (a preservative), menadione sodium bisulfite complex (source of vitamin K activity), thiamine mononitrate, pyridoxine hydrochloride, natural and artificial colors, vitamin B12 supplement, folic acid, biotin, ascorbic acid. Guaranteed Analysis: Crude protein (min.).10% Crude fat (min.).6% Crude fiber (max.).5% Moisture (max.).14%
Price: $
Sold by PetSmart

5 x 7 Paper Greeting Card
List Price: $ 3.50
Price: $ 3.50

Click here for reuse options!


Copyright 2015 HealthNutFitness
Click here for more information about 'Why Personal Trainers Should Consider Teaching Group Fitness Classes'.