Healthy snacks[1] aren't just the key to weight loss[2]. When chosen well, they help regulate your blood sugar (so that it doesn't spike and crash leaving you hunting for the biscuit tin) and are a sustainable way of keeping your energy levels up.
HuffPost UK Lifestyle[3] tried three different healthy food and drink brands currently on the market to see whether they were worth the money.
SEE ALSO:

10 Healthy Snacks To Curb Your Food Cravings[4]

Start Drinking Green Juice for Life-Changing Mojo[5]
Plan Bread aka Broccoli Bread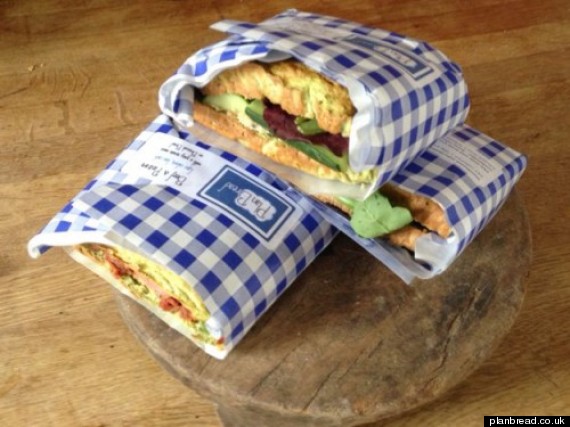 What is it? Sandwiches that are wheat-free[6], gluten-free and packed with protein, with a range of fillings from brie to steak, and sun-dried tomatoes and mushrooms to chicken and pesto.How does it arrive? delivery service in London only, with a view to expanding.What does it look like? The broccoli bread is actually quite dense, a slight greenish colour. It holds the fillings well.
Our verdict: Carb-free broccoli bread sounded questionable, but this tasted absolutely amazing.
Lifestyle editor Poorna Bell said: "I normally don't eat sandwiches because they taste soggy and I don't like the idea of bread at lunch. But this fit the bill perfectly. The fillings were fresh and yummy, and the bread was dense enough that it kept me full until dinner. Considering how expensive Pret is, I think these are worth the 4.25. My favourite was the ham and emmental."
Deputy editor of Parentdish.co.uk Liz Stansfield said: "Im a Coeliac and making and even finding in the shops tasty gluten free bread is one of the biggest challenges. Loaves are usually either rock hard and dry, or too soft and prone to falling apart. The Broccoli bread seemed to find a happy medium – soft and moist but firm enough to hold its shape when held/eaten."
Assistant lifestyle editor Brogan Driscoll said: "Great for the carb-conscious, broccoli bread offers a filling, tasty and healthy alternative to your bog-standard bread. The fillings were very tasty – the shredded beef fajita one was my favourite."
Top marks, a definite fixture in the HuffPost offices.
Saviour Snacks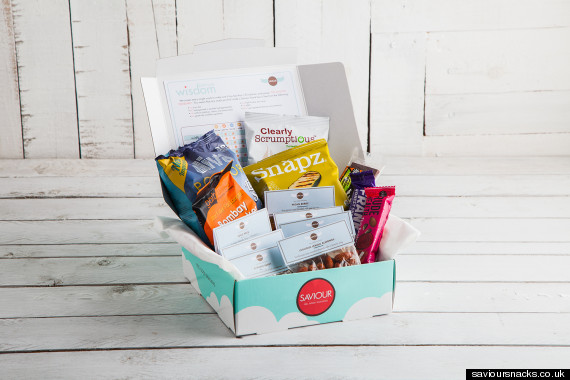 What is it? A delivery service of healthy, organic snacks[7] hand-picked by nutritionists to get you through the day.How does it arrive? You choose which box you want, which includes regular selections, ones for weight loss as well as gluten/dairy free and ones for vegans. You can choose the regularity of delivery, which is UK-wide and free. What does it look like? A very pretty box stuffed with snacks hidden beneath the tissue paper. Sits nicely on our desk.
Verdict: This saves a lot of time peering at labels, as you can guarantee the snacks have no trans-fats, unnatural sugars and have no additives. All of which makes healthy snacking much easier.
More importantly, the snacks actually taste good. The Tamari roasted almonds were a triumph, as well as salt and pepper sunflower seeds and Bounce protein balls – great for post-workout at the gym. We loved that the snack boxes come with a menu card, and that there is such flexibility in what you can order. We're not 100% convinced we'd pay 15 per week or fortnightly, but it is infinitely superior to Graze as a snack delivery service.
Story continues below the slideshow:
1. Roasted Chickpeas

There are as many ways to prepare roasted chickpeas as there are herbs and spices. Try making them with spices that you love from a favourite dish or cuisine, like curry powder for an Indian flavour or cumin and chili powder to for a Mexican variation. <a href="http://www.canadianliving.com/food/curried_roasted_chickpeas.php" target="_blank">The recipe is simple:</a> toss a can of chickpeas with a bit of oil and your chosen spices, and bake your chickpeas at 400C until they're golden and crunchy.

2. Salad In A Jar

Salads can be both nutritious and versatile, because theyre endlessly customizable, but they can be messy and difficult to transport. Also, mixing in your dressing in advance can make your greens soggy, but carrying it on the side can lead to a work bag full of Catalina. The solution? Salad in a jar! <a href="http://www.thekitchn.com/salad-in-a-jar-make-a-week-of-lunches-173014″ target="_blank">This was all over Pinterest</a> a few months ago, and for good reason: by layering the salad ingredients, with dressing at the bottom and greens at the top, they all stay fresh until you dump them in a bowl.

3. Hummus And Carrot Sticks

Hummus is made with chickpeas, which are full of protein and fibre and a good source of iron. Good thing it's also delicious. There are many ways to get hummus into your mouth, but we recommend freshly cut carrot sticks or bagged baby carrotsthey've got a satisfying crunch and are a great way to get some vitamin A in your diet. If you're feeling adventurous, <a href="http://www.foodnetwork.ca/recipes/michael-smiths-hummus/recipe.html?dishid=10472″ target="_blank">try making your own hummus</a> at home.

4. Fresh Fruit

Fresh fruits are nature's first convenience food bananas and oranges even come with their own biodegradable packaging. It's hard to mess up this one, but we recommend choosing <a href="http://localfoods.about.com/od/CanadianProduceGuides/Canadian-Produce-Guides.htm" target="_blank">fruits that are in season</a> locally. That way your already healthy snack will also be cost conscious and at its peak of flavour and freshness.

5. Green Smoothies

You can really customize a daily smoothie to fit whatever nutritional needs you to need to address. Add hemp seeds or ground flax for a dose of healthy omega fats. Get some potassium and fibre by throwing a banana into the blender. Add protein with a powder supplement or soy milk. Our favourite smoothie booster is a handful of healthy fresh greens, like spinach. It's a great way to get the benefits of these healthy vegetables. Oh She Glows has a selection of recipes for<a href="http://ohsheglows.com/categories/recipes-2/beverages/green-monsters-beverages/" target="_blank"> "green monster" smoothies</a> that are so delicious that you'll never guess they're great for you.

6. Kale Chips

Kale is having its moment in the nutritional sun right now. This hot leafy green has become increasingly popular not just for its great taste but also because of its abundance of fibre and iron, among other key nutrients. Kale's great in salads, but you can also <a href="http://www.huffingtonpost.com/2013/01/03/kale-chips-recipe-baked_n_2398474.html" target="_blank">make it into chips</a> by baking it in the oven, adding your favourite seasonings to replicate the taste of your favourite fried snacks without all the fat and calories. We suggest tossing the shredded kale with apple cider vinegar and sea salt.

7. Ants On A Log

Ants on a log celery stalks filled with peanut butter and topped off with raisins might remind you of snack time in kindergarten, but did you know that celery is a source of potassium? The peanut butter gives you a kick of protein while the raisins throw some fibre into the mix. You can make this one a little more grown up by trying a different nut butter, like cashew, or by substituting dried cranberries for raisins. Personally, we think that the classic version is yummy, too.

8. Veggies And Dip

Think of what you'd love to see on a crudite plate, and get it on the go. Broccoli, peppers, carrots, celery, and cauliflower are all great options for snacking. They take a while to eat so you won't rush past your full point, and munching on them throughout the day can help you reach your recommended servings of fruits and vegetables. <a href="http://www.davidlebovitz.com/2008/07/baba-ganosh/" target="_blank">Baba ganoush,</a> made with eggplants, is a great dip option.

9. Edamame

Steamed and salted edamame pods are to the Japanese what peanuts and popcorn are to North Americans they're a standard bar snack across the Pacific. They're a lot healthier than our favourites, because edamame are fresh green soybeans, which means that they're full of protein. They're delicious with just a sprinkle of sea salt.

10. Pumpkin Seeds

It's a shame that a pumpkins seeds usually get thrown away when we carve out our jack-olanterns at Halloween, because they're very nutritious. Pumpkin seeds are full of antioxidants, and they're a great source of immune-boosting zinc. Like chickpeas, you can toss them with spices and a bit of oil and roast them, but they're also delicious raw. If you can find them, get your seeds unshelled to get your full boost of zinc. The shells are edible.
Vegesentials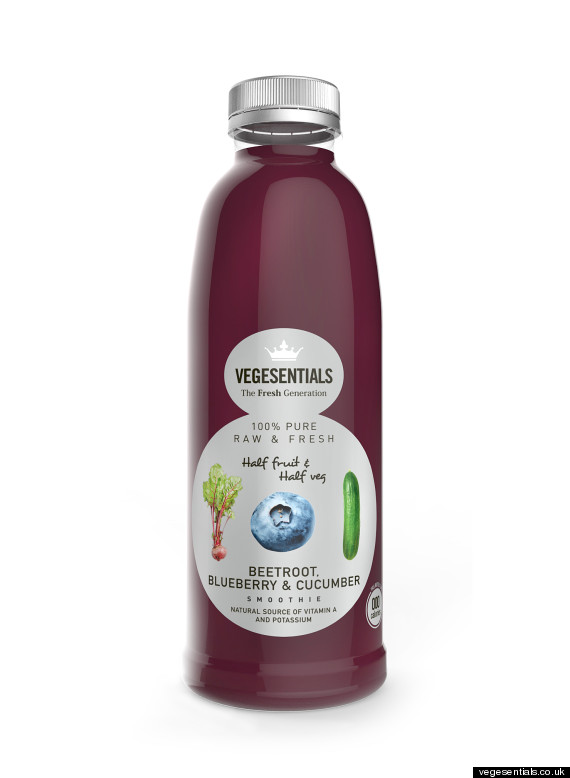 What is it? One of the UK's first fresh fruit and vegetable juice brands to be stocked in supermarkets, begun by stay-at-home mother Patience Arinaitwe-Mugadu and her husband Andrew.How does it arrive? You can order through Ocado or buy in Waitrose, Whole Foods and Planet OrganicWhat does it look like? Gorgeous packaging with clean lines and nice logo
Verdict: Fruit and veg juices are a tricky balance – you want to get all that goodness packed in there while maintaining a delicious taste. With all the bad press pure fruit juice (too much sugar) has, adding in vegetables boosts your healthy intake of vitamins and fibre. Vegesentials hits the balance perfectly, with yummy kale and spinach juices whizzed up with tasty fruits like mango, peach and blueberries. From 1.99, it's good value too.
FOLLOW HUFFPOST UK LIFESTYLE ON TWITTER | LIKE OUR PAGE ON FACEBOOK[8][9]
";var coords = [-5, -72];// display fb-bubbleFloatingPrompt.embed(this, html, undefined, 'top', {fp_intersects:1, timeout_remove:2000,ignore_arrow: true, width:236, add_xy:coords, class_name: 'clear-overlay'});});
References
^ Healthy snacks (www.huffingtonpost.co.uk)
^ weight loss (www.huffingtonpost.co.uk)
^ HuffPost UK Lifestyle (www.huffingtonpost.co.uk)
^ 10 Healthy Snacks To Curb Your Food Cravings (www.huffingtonpost.co.uk)
^ Start Drinking Green Juice for Life-Changing Mojo (www.huffingtonpost.co.uk)
^ Sandwiches that are wheat-free (www.planbread.co.uk)
^ delivery service of healthy, organic snacks (www.savioursnacks.com)
^ FOLLOW HUFFPOST UK LIFESTYLE ON TWITTER (www.twitter.com)
^ LIKE OUR PAGE ON FACEBOOK (www.facebook.com)
Resources:
Be Well On Your Way: Journey to a More Authentic You (Paperback) tagged "healthy lifestyle" 88 times
Wed, 10 Nov 2010 00:25:58 GMT Be Well On Your Way: Journey to a More Authentic You (Paperback)By Maiysha T Clairborne MD Click for more info Customer Rating: Customer tags: mind body spirit(90), self-help(90), empowerment(89), personal growth(88), healthy lifestyle(88), health(88), healthy living(85), healthy life(85), personal development(81), relationships(79), self esteem(35), self-improvement(35) http://www.amazon.com/Be-Well-Your-Way-Authentic/dp/1453614095/ref=tag_rso_rs_edpp_url?ie=UTF8&creative=381421&tag=thedays-20
Life On Your Terms: 7 Steps To a More Empowered You (Paperback) tagged "healthy lifestyle" 88 times
Wed, 26 Jan 2011 03:27:19 GMT Life On Your Terms: 7 Steps To a More Empowered You (Paperback)By Maiysha T Clairborne MD Click for more info Customer Rating: Customer tags: self-help(91), empowerment(89), health(89), healthy living(88), healthy lifestyle(88), healthy life(87), personal development(86), mind body spirit(86), personal growth(84), relationships(81), self-improvement(41), self esteem(40) http://www.amazon.com/Life-On-Your-Terms-Empowered/dp/1453615040/ref=tag_rso_rs_edpp_url?ie=UTF8&creative=381421&tag=thedays-20
Why Mental Health Is Key To Living A Healthy Lifestyle | Black …
Health and wellness starts in the mind. Renewing your mental health should be the first step in any lifestyle or weight loss journey. Listen to the audio player to hear how conditioning your mind will help you reach your goals. http://blackamericaweb.com/2014/02/18/why-mental-health-is-key-to-living-a-healthy-lifestyle/
Supplement Use Associated with a Healthy Lifestyle | Psych Central …
A nutritional study suggests the use of dietary supplements is associated with a concerted effort to develop a healthier lifestyle. Annette Dickinson, Ph.D., http://psychcentral.com/news/2014/02/10/supplement-use-associated-with-a-healthy-lifestyle/65680.html
Weight Watchers Healthy Life-Style Cookbook by Inc. Staff Weight Watchers…
2014-02-14T15:11:24.000Z $0.99 (0 Bids)
End Date: Friday Feb-21-2014 7:11:24 PST
Buy It Now for only: $3.99
Buy It Now | Bid now | Add to watch list
Exerpeutic Aero Air Ellipticals Gym Home Workouts Fitness Healthy Lifestyle Fun
2014-02-18T05:17:42.000Z $107.18
End Date: Wednesday Mar-19-2014 22:17:42 PDT
Buy It Now for only: $107.18
Buy It Now | Add to watch list